Santa Claus came to town and what an entrance! Leaving Rudolph and his reindeer at an undisclosed Upcountry location, Santa was escorted down South Kihei Road in a vintage 1944 fire truck by the Maui Classic Cruisers. Upon his arrival at The Shops at Wailea, hula performers welcomed Santa and the guests with aloha. He was accompanied through the shopping center to the Wailea Window Wonderland at the Shop's upper valley where the holiday hula show commenced. As an added treat, Santa's elf was also present handing out Peppermint Macadamia Nut Cookies from the Honolulu Cookie Company.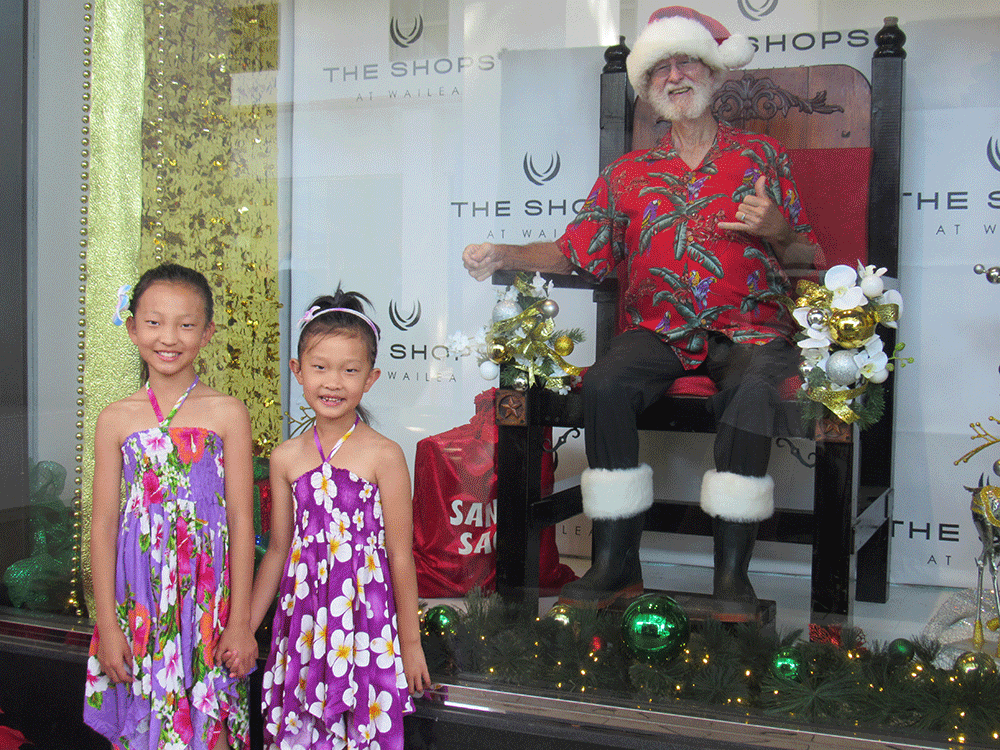 In keeping with holiday traditions, the Shops are hosting numerous festivities and cultural activities, including Lei Po'o Making, Coconut Frond Weaving, Coconut Husking and Papa Hula, as well as free photos with Santa. After another challenging year of Covid-19, the festive parade, Santa photos, and the community food drive are contributing to the holiday spirit.
"We want our guests to experience memorable moments and feel the magic of the season even though celebrations may be slightly different this year," said Diana Whitt, General Manager and Vice President of Property Management for The Shops at Wailea. "We have also begun our holiday food donation drive, Aloha Can Make a Difference, in partnership with the Maui Food Bank. During this season of giving, we invite our guests—both locals and visitors—to support those in need in our community. There is still time to visit Santa at Wailea Window Wonderland on Saturday, December 18th from 4-7pm and to donate to the Maui Food Bank. Most-needed items include canned meat and tuna, canned fruits and vegetables, cereal, soups with proteins, rice, pasta, and monetary donations are always welcome."
Santa reflected, "I need lots of helpers this year! The task has been spread among us all. Remember, it is all about the hearts that we touch and the care that we show. There is no better way to celebrate the holidays than by giving back. I like to see people helping each other, especially for families in need. We can all make a difference!"
Believe in love. Believe in magic. Believe in others. Believe in yourself. Stay safe and keep the holiday spirit all year!
Santa Claus