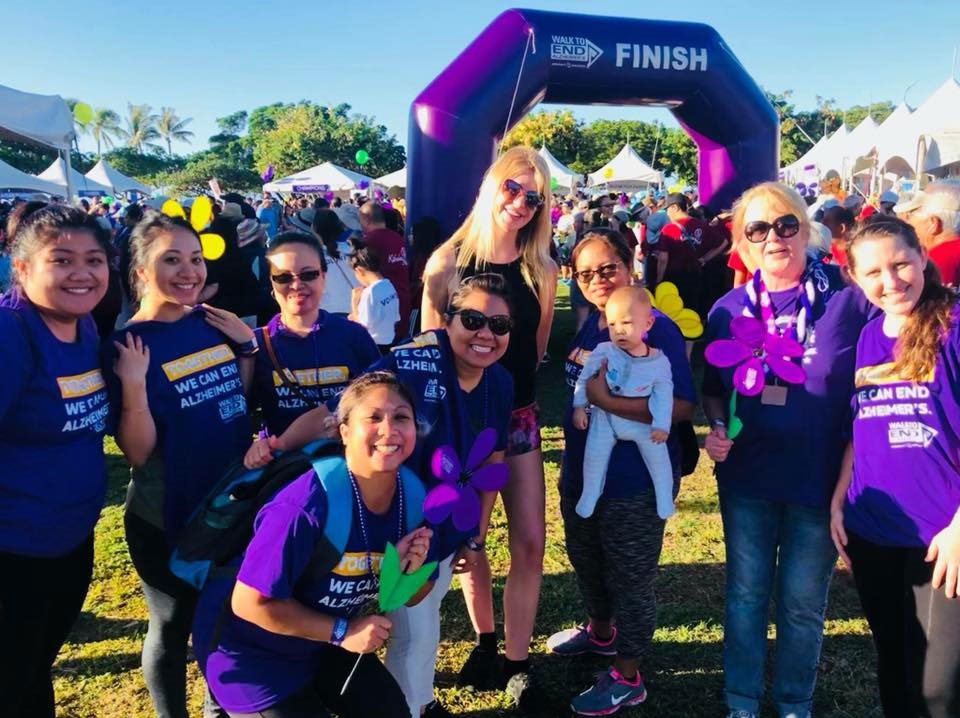 As a global leader in Alzheimer's research, the Alzheimer's Association®  leads through innovation, bringing together government, industry, and academia to advance global collaboration of researchers. Together, they work on causes, diagnosis, treatment, and prevention of Alzheimer's and other neurodegenerative diseases.
In Hawaii, the Alzheimer's Association® Aloha Chapter mission is to provide care and support for everyone affected, and to reduce the risk of dementia through the promotion of brain health. Alzheimer's, the sixth most prevalent disease in the United States, takes more lives than breast cancer and prostate cancer combined.
"On Maui, we have unique challenges and limited resources," said Christine Spencer, Regional Coordinator, Maui County. "The average cost to take care of someone living with Alzheimer's disease is over 150,000 dollars a year.  This, compounded with Maui's high cost of living and lack of affordable housing, puts families on the island in really tough situations."
The Alzheimer's Association® strives to offer support services to families around the clock, with a 24/7 hotline for crisis or questions. This can be done by telephone or in-person by scheduling an appointment. They offer free care consultations that assist in planning for and coping with the disease, as well as professional trainings. Year-round educational classes are offered in topics ranging from legal and financial planning to understanding dementia-related behaviors.
"It is important that caregivers know that they are not alone," Spencer said. "There are 65,000 people in Hawaii who are caregivers, an unpaid job that could be considered one of the most difficult jobs out there. We encourage people to join one of our support groups or classes. We all have so much to learn from each other when it comes to fighting this disease— leading the way to Alzheimer's first survivors."
The Walk to End Alzheimer's starts at 8 a.m. on Saturday October 26th, 2019, at the Boys and Girls Club in Kahului. "It is a special event that recognizes people who have the disease, loved ones lost to the disease, and the thousands of caregivers in the community," said Spencer. "We believe that, together, we can fight Alzheimer's and find a cure!"
We have an incredibly generous community on Maui. With their support, and with the funds we raise at the Walk to End Alzheimer's, we are expanding our efforts to unreached communities in Molokai and Hana. For more information contact: Christine Spencer at 808-591-2771 ext. 8235 or go to www.alz.org/hawaii.
Christine Spencer, Alzheimer's Association® Regional Coordinator, Maui County