Maui resident Lin ter Horst, a former investment banker, fell in love with the art of pastry and confection-making after she completed a pastry diploma program at Le Cordon Bleu London. Prior to receiving her pastry training, Lin, with degrees from Wesleyan University in Connecticut and Columbia Business School in New York City, held positions in financial services and internet marketing. Life's unpredictable turn of events brought her to pastry-making classes at Le Cordon Bleu where she was swept away by the Pates de Fruits, a popular gourmet confection found in France.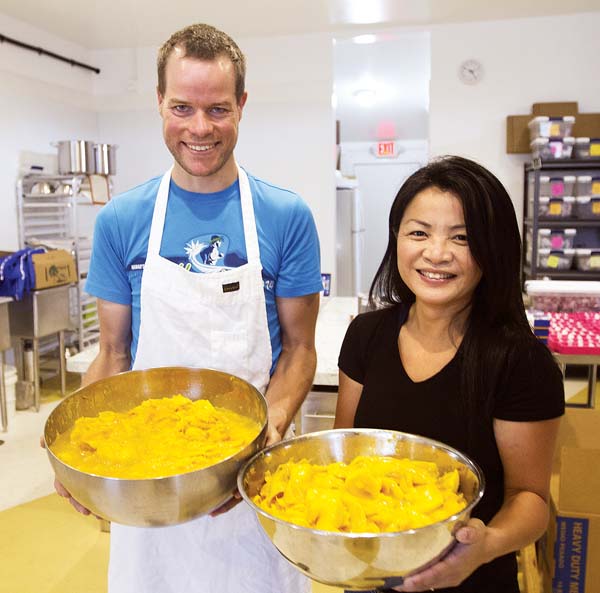 "I was overwhelmed by the exquisite flavors these little fruit jewels imparted," Lin explained. "With an intensity so pure, I was astonished by those exquisite jewel-toned delicacies that practically melted in my mouth!"
In 2012, Lin moved to Maui with her husband Chris, a professional triathlete with a background in industrial engineering. They co-founded Maui Epicure LLC to launch their award-winning business, Maui Fruit Jewels. Chris noted, "At the heart of each Maui Fruit Jewel is a love story buried in the juicy center. Our exotic jellies, fresh purees, fruit-studded shortbread and fruit pastes are filled with wines, spices, fruits and more, all home-grown on Maui. The fruit puree, cooked with other ingredients to a high temperature, are reduced to a thick paste, and poured into molds to set before being cut into small pieces. The little shortbread squares come in a rainbow of colors with flavors like guava, lilikoi, mango, pineapple, papaya and others."
Maui Fruit Jewels remains a family-run operation, inspired by Hawaii and its people. Chris and Lin sell their ever-growing product line weekly at the Maui Upcountry Farmer's Market and at numerous stores and hotels. On Saturday, September 17th from 9am-4pm, Lin will chair the annual Kula Festival at St. John's Church where attendees have traditionally been drawn to talented musicians, homemade foods, artisan crafter booths, and the popular silent auction featuring generous donations from local artists and businesses. Lin added, "This year's zero-waste event, with its rich history of celebration and service, will help support Maui Cancer Resources and Malama Family Recovery Center."
We warmly invite our island ohana to the 2022 Annual Kula Festival and to try our Maui Fruit Jewels. Every bite gives back to the Maui 'aina it comes from.
Lin and Chris ter Horst, Maui Fruit Jewels