Through April 16th, Viewpoints Gallery in Makawao is presenting Celebration of Hawaii 2022, an annual invitational exhibit featuring work from more than 60 artists. "The entire Viewpoints Gallery is redesigned around this presentation," said Oliver and Joelle Perz, Viewpoints Gallery and Art Directors. "We are showing artwork of significance by some of the best artists coming from around the state. Every piece portrays diversity. craftmanship, and visual beauty, all focused on the theme of honoring our extraordinary Hawaiian islands and culture.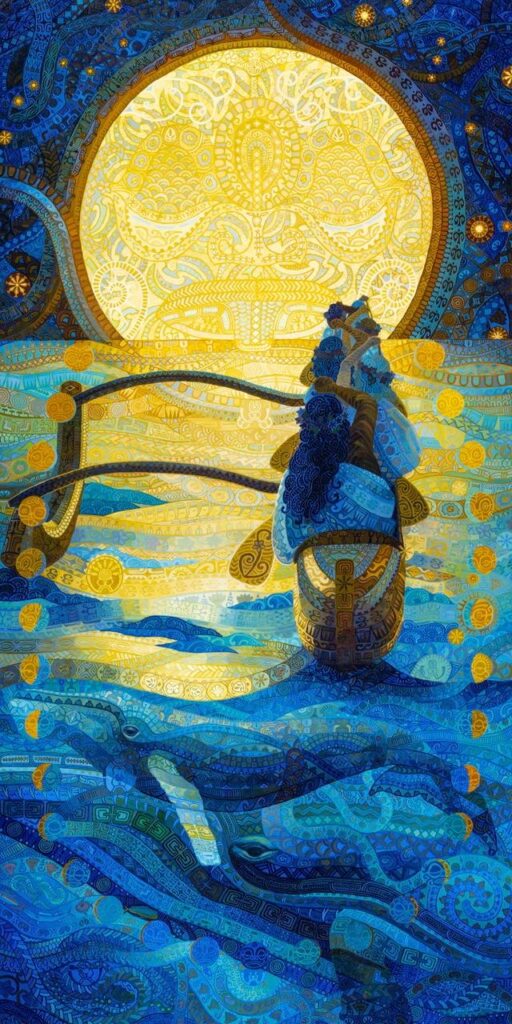 As part of an on-going program started by Joelle, called the 'Reaching Out Project', artists were asked to collaborate with someone from the community to create a piece for the exhibit. Maui artist Jeanne Bitz worked with the Hawaiian Outrigger Canoe Voyaging Society (HOCVS), whose mission is to promote sustainability and respect for the earth, humanity, and the Hawaiian culture through voyaging and the way of life on the canoe. Bitz's collaboration with HOCVS and her experience of paddling into the full moon proved uniquely inspirational for expressing the Hawaiian culture artistically.
Bitz explained, "My work, titled Hina, an oil on gallery-wrapped linen, 96 x 48 inches, follows the story of Mahina as I learned it while searching for wisdom from ancestors, and listening to the present need of others, myself included. Throughout the Oceanic cultures, Hina has represented a fluid, powerful, extremely diverse woman who faces challenges, makes her own path going forward, destroys barriers to equality, and works to make the world a better place. Every woman in that canoe has faced and overcome challenges that seemed insurmountable at the time. If not for the canoe, our paths might never have crossed. We come together to be stronger, to learn, to grow, to embark on grand adventures, and sometimes we come together to be the change we want to see in the world. Beyond that, when we work together, that feeling of the canoe taking flight and gliding over the water is visual poetry. Mahalo nui loa for my chance to collaborate with HOCVS, and those shared moments that allowed our stories to intertwine on this grand adventure."
Mahalo to Viewpoints Gallery for providing a space and a nurturing spirit that truly celebrates the rich culture of Hawaii.
Jeanne Bitz, Maui Artist