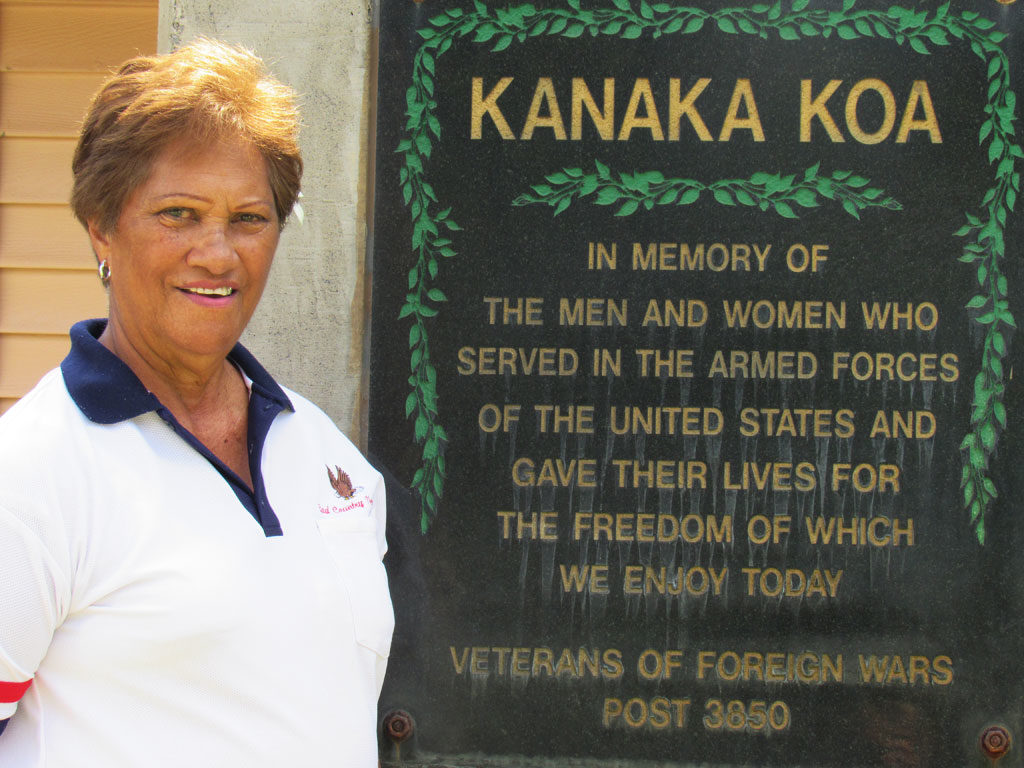 For more than 100 years, the Veterans of Foreign Wars (VFW) Auxiliary has been fulfilling its original objectives to serve veterans of this country within our communities. The Auxiliary is the VFW's highly regarded support organization and is considered its "Partner in Service". As a member of Maui VFW Auxiliary #3850, Paula Kalanikau has striven for many years to help veterans and their families. She and others raise financial aid for veterans; perform countless hours of community service; and fund cancer research, Special Olympics, and other worthy causes.
"I became a member of the VFW Auxiliary in 1989," said Kalanikau. "However it wasn't until 1998, upon my retirement from the Department of Health, that I got fully involved." Kalanikau served as Junior Vice President, Senior Vice President, and then as Auxiliary President for three years. She was then elected President of the VFW Department of Hawaii where she worked with Maui County in their community work day projects. In 2005 Kalanikau was named Volunteer of the Year in the County and also received the Gene Thompson Lifetime Award. In 2006, she was instrumental in creating the Maui Freedom Walk to mark the 5th anniversary of the attack on the World Trade Center.
Kalanikau comes from a military family. She served in the Navy Nurse Corps for four years, taking care of the injured and sick. Her husband served in the Hawaii Army National Guard Reserves for 13 years, her brother David served in the Marines, and her brother Gilbert was killed in action in the Korean War. Additionally, Kalanikau served in the medical field at the National Naval Medical Center in Bethesda, Maryland where she saw firsthand how the wounded and their families have suffered. "Our veterans need our support to help them maintain their health and their benefits," said Kalanikau. "We must continue to understand their needs."
The community is invited to a Kihei VFW All You Can Eat Pancake Breakfast Fundraiser on Saturday, September 10th from 7am to 10am. There will also be an annual VFW Rummage and Bake Sale. http://www.vfwmaui.com/
The VFW Auxiliary helps to keep the public aware of the sacrifices and commitment of all service members.
Paula Kalanikau, Maui VFW Auxiliary 3850