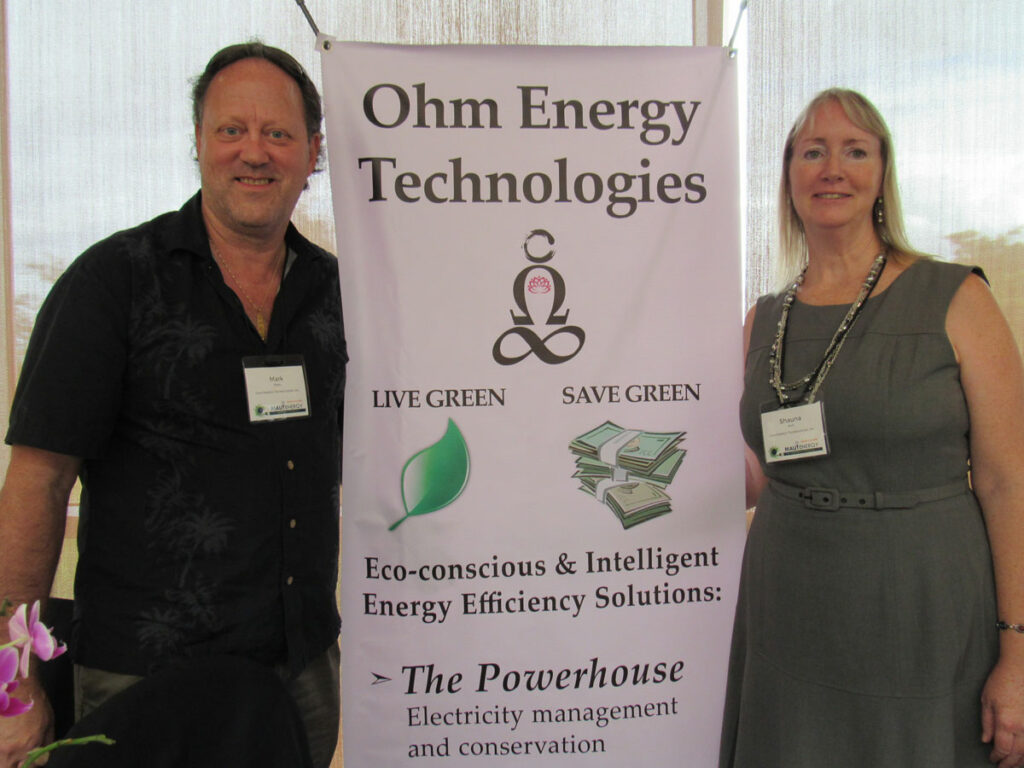 Mark Ware and Shauna Ault of Ohm Energy Technologies, Inc., exhibitors at the 2018 Maui Energy Conference, provide the technical acumen and business management for their family-run company. "Maui called us several years ago, prompting us to create a business that would serve the Hawaii community," said Shauna Ault. "In 2016, Ohm Energy Technologies relocated from Idaho to Hawaii, to further serve a market experiencing high electricity costs. We are making significant impacts in reducing the consumption of electricity, thus reducing the amount of petroleum fuels burned, as well as saving our customers a significant amount of money on their electricity costs. Hawaii has an aggressive energy efficiency promotion policy, with targets of 100 percent renewable sources of generation by the year 2045. Currently, however, Hawaii still generates approximately 60 percent of its electricity by burning petroleum-based fuels."
Ohm was established in 2014 to facilitate sales and installation of energy efficiency equipment in a variety of markets. Their primary product, The Powerhouse, was developed by an electrician as a prototype in 2002. It was so successful that it was quickly scaled up to small commercial application. Demand from larger facilities followed. Currently designed for commercial and industrial installations, The Powerhouse has reduced electricity bills by 10, 20, and even 30+ percent, depending on existing efficiency and types of equipment.
"In 2017, Ohm collaborated with manufacturers in California and Maine to develop the next generation of Powerhouse technology: a variable-capacitance system that dynamically adjusts to electricity demand, and a digital internet-accessible monitoring system for rapid access to data and control," Ault explained. "These systems are now installed in an expanded market on Oahu and Maui, maximizing kilowatt reductions while continuing to provide all other benefits of The Powerhouse. Additional technologies we can implement include state-of-the-art LED lighting for commercial and municipal settings, solar LED street lamps, variable-frequency drives, and harmonic distortion control equipment. With this portfolio of energy efficiency solutions, Ohm Energy Technologies is well positioned to solve many of our energy concerns today, and into the future."
Hawaii has been our strongest market to date; however, The Powerhouse has been installed in over 700 facilities in the U.S. mainland and Canada.
Shauna Ault, Ohm Energy Technologies, Inc.