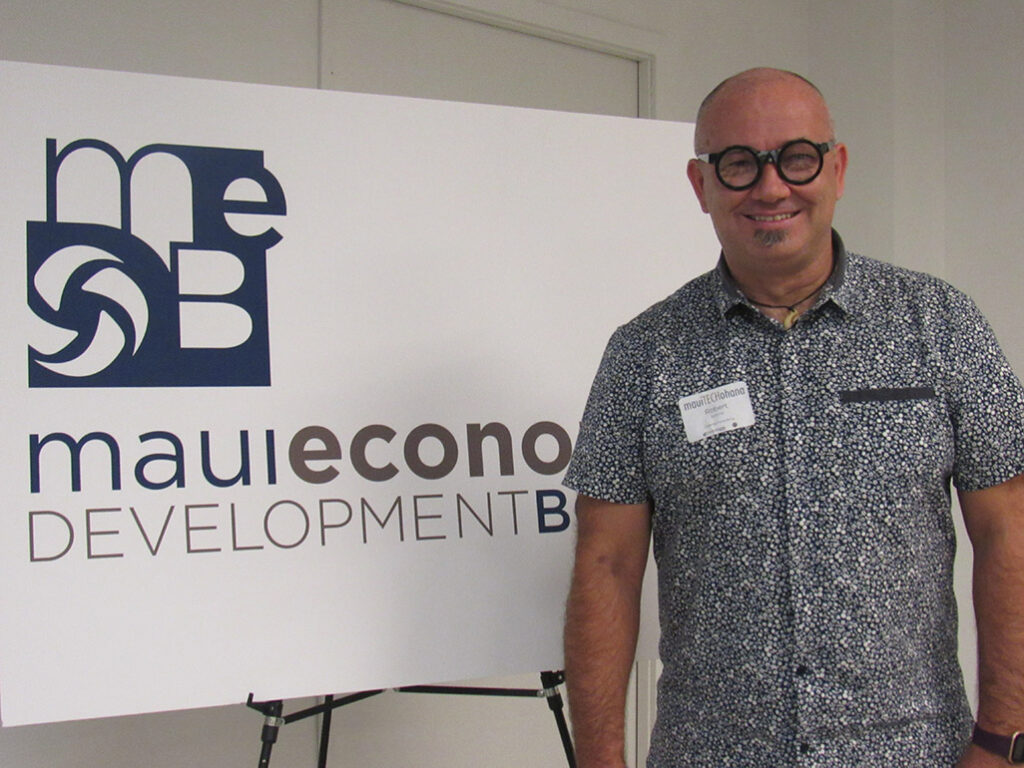 Robert Schmid, Chief IoT Technologist with Deloitte Consulting, discussed the Internet of Things with over forty Maui small business owners and entrepreneurs at the recent Maui TechOhana meeting. Presented by Maui Economic Development Board (MEDB), and supported by the County of Maui Mayor's Office of Economic Development, Maui TechOhana provides an opportunity to share views and thoughts in an open forum with presentations on relevant topics in business and technology.
Gerry Smith, Director of Business Development for MEDB, invited Schmid to speak at the meeting because of his own curiosity about IoT. "I found out there were many applications where IoT sensors can be used in industry to maximize efficiency," said Smith. "Sound, vibration, and heat sensors can work to reduce down-time and increase productivity."
Schmid, now a Maui resident, has more than 20 years of experience transforming Global Fortune 100 and start-up companies to new 21st-century technologies. He is the co-host of the popular YouTube live program, Coffee with Mr. IoT, on Fridays. The program features lively conversations about connecting everyday objects with computers over the internet. At TechOhana, Schmid talked story sharing his career path before going into a number of case studies in which connecting devices in real-time made a big difference to companies and their profits. "One of the greatest opportunities for Maui is in agriculture with Smart Ag," he noted.  "We are looking at ways to increase efficiencies by planning optimal times for planting, saving water, fertilizing and more. My goal is that the IoT be everywhere and affect everyone. We need to connect more and more things!"
Kim Scott, Lahaina resident and founder of MyMARSI.com, said, "This was an amazing event for me. I am an entrepreneur with an idea for an app that has a connection to the IoT.  Schmid is a professional who knows what the trends in technology are now. I learned ways to relate the IoT to my current business, giving me ideas for my invention and goals to increase my profits.  I'm so grateful to MEDB for all their events and workshops. I wish there were even more!"
Now that chips and computers are cheaper, networking is easier. This cost reduction allows us to use IoT more widely.
Robert Schmid, Chief IoT Technologist, Deloitte Consulting