Mitzi Toro, owner of The Maui Cookie Lady, recently opened an incredible upcountry boutique bakery in Makawao Town featuring her original, six-ounce cookie creations. After two years of looking for a store front, she received a call from Barbara Tam, who grew up on the property where Toro's current commercial wholesale kitchen is located in Makawao. She calls the luck of her new bakery location, "pre-ordained cookie destiny".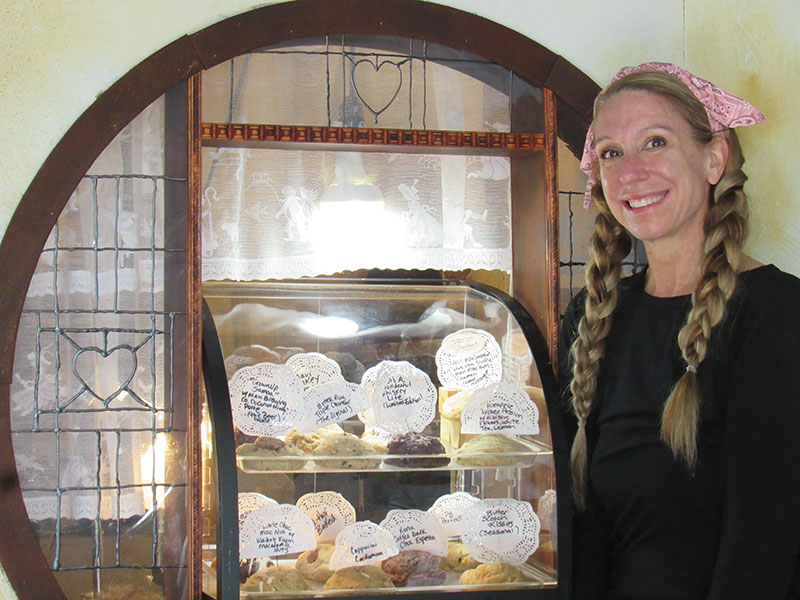 In business since 2012, Toro started baking cookies as a fund-raiser for the ICU nurses who cared for her terminally-ill father. The next year, making cookies became a favorite hobby that transformed into a full-time business. Toro noted, "Hawaii has an array of beautiful agriculture, so I use high quality, locally sourced ingredients. Additionally, I sell other local specialty-food items in my bakery, as a way of supporting my fellow entrepreneurs." Toro also gives back through community initiatives. One project, Maui School Slippah Solace, provided over 2,000 pairs of new flip flops to students on three islands.
Toro has gained fans from all over the world. Matching her company motto, 'To make the world a smaller place one cookie at a time', the demand for her cookies continues to grow rapidly. The cookies are now sold at select stores, hotels, restaurants, on ocean cruises, and are shipped nationwide and internationally. The Maui Cookie Lady brand is also partnering with the QVC shopping channel to share Hawaii-made cookies in home-shopping markets. Toro noted, "During the pandemic, my focus was the online market with holiday orders and gift purchases. This helped me through tough economic times."
Toro recalled, "At the beginning, I had to learn about all the things that are not so fun, like budgets, profit margins, packaging, food compliance, business math, taxes and licensing, just to name a few. My receipts were in a shoe box and I really was not sure what the business was costing. One day I went by the Maui Economic Development Board office and the rest is sweet history!"
The support and love from the community for our little island bakery still makes me tear up. I feel like I am living the cookie-prenuer dream.
Mitzi Toro, The Maui Cookie Lady