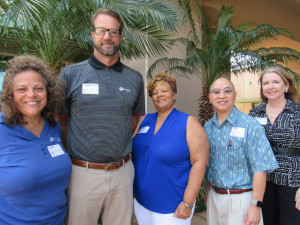 The recent Maui Economic Development Board (MEDB) workshop, "Getting Started For Startups: The Basics of Sound Human Resources Management," brought home once again the importance of building a strong foundation for business success. More than 20 entrepreneurs, small business owners, and business development professionals attended the HR workshop at MEDB's Malcolm Center in Kihei which focused on a business's most important asset – their employees.
"Our Business Development team appreciates the overwhelmingly positive response to the seminar," said Frank De Rego Jr., Director of Business Development Projects at MEDB. "MEDB works diligently to provide startup, emerging-growth, and established businesses with the tools they need to be successful. The panel for this seminar represented some of the best state and local professionals in the human resources management field."
"It was great being exposed to companies here on Maui that I can hire to perform many of my HR-related functions and reporting requirements," said participant and new business owner Pamela Norris. "I attended this class to learn the new requirements that are unique to operating a 2016 business in Hawaii. This was very helpful and my questions about HR compliance were all answered."
The expert panel members shared on aspects of Hawaii State law that included basic payroll regulations, tax liabilities, withholdings, and FICA-FUTA-SUTA taxes. Health care discussions focused on the Affordable Care Act, including an explanation of group versus individual health care plans plus the ins and outs of Prepaid Health options. The HR training covered recruiting, hiring and terminating an employee, plus the effects of Workers Compensation. A professional in the field of law, specializing in representing employers, explained the best practices to avoid lawsuits. Finally, wage and hour issues such as minimum wage and overtime, insurance requirements, and how new labor law legislation will impact business, rounded out the workshop.
"The breakout sessions following the seminar afforded the opportunity to learn more about the businesses represented by the other attendees," said Norris. "A great deal of networking and valuable sharing of information took place in those sessions. Once again, MEDB sponsored a training session that meets the needs of the small business community here on Maui."
In general, compliance with HR laws is not understood by employers. The MEDB workshop gave participants insights to increase their profitability and decrease their liability in the workplace.
David Yarbrough, Panel Member