Maui resident Dr. T.S. Kelso was honored with an award from the Space Data Association (SDA) at the 22nd Advanced Maui Optical and Space Surveillance Technologies (AMOS) Conference, for his outstanding contributions to space flight safety. AMOS, presented by Maui Economic Development Board (MEDB), is the premier technical conference in the nation devoted to space situational awareness (SSA); keeping track of objects in orbit.
"We are honored that Dr. Kelso received his award at the AMOS Conference," said Leslie Wilkins, MEDB President and CEO. "The award will be presented annually to recognize vital contributions and applications to enable flight safety."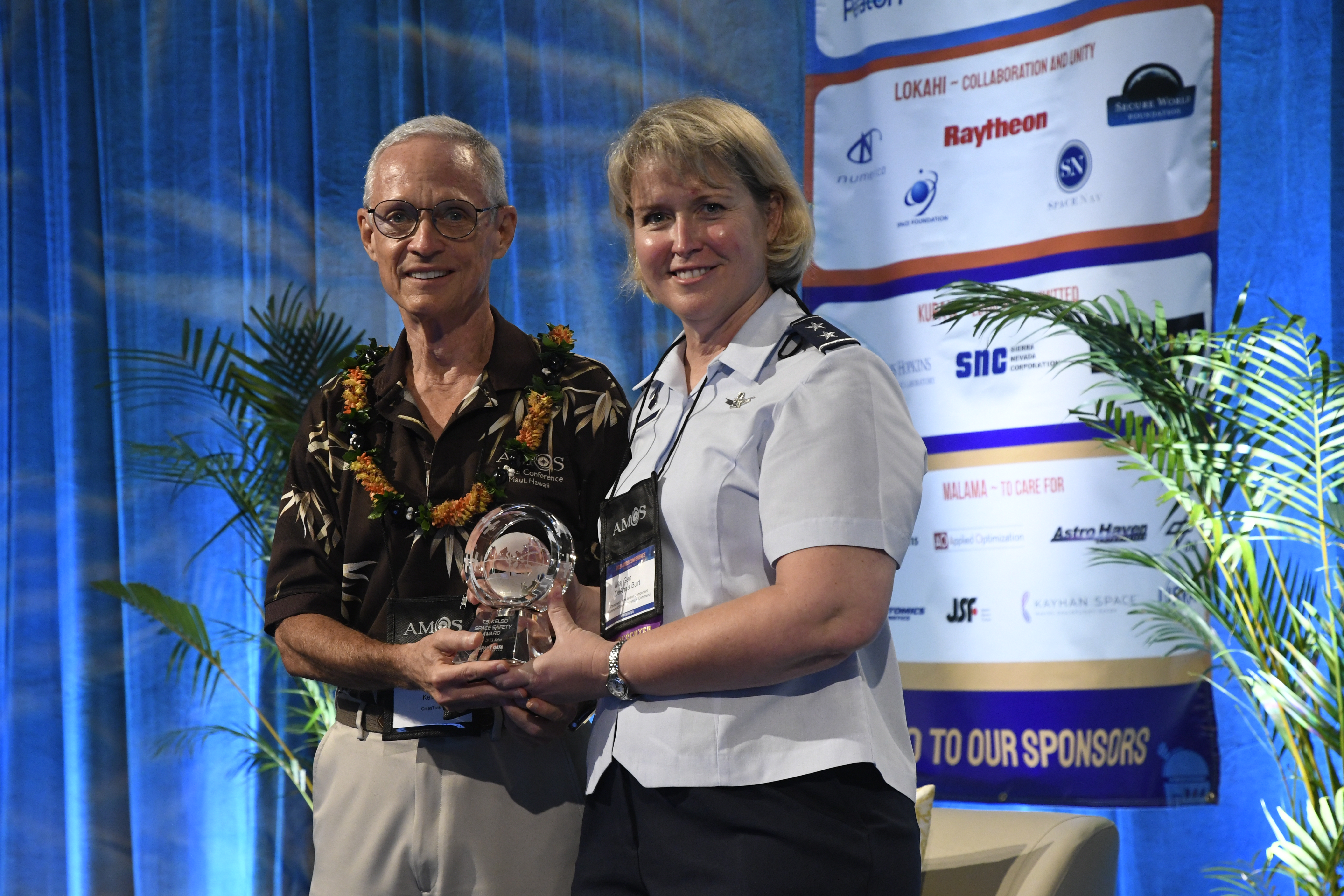 Kelso is an internationally recognized leader in the field of SSA and has driven technical improvements to further ensure that the SDA stays on the cutting edge of satellite safety performance. The award was presented by Major General DeAnna M. Burt, Commander, Combined Force Space Component Command, United States Space Command. Burt said, "I am pleased to present the T.S. Kelso Award for Space Safety to its first recipient, T.S. Kelso. He has diligently worked to promote safe operational practices for all stakeholders."
Kelso pointed out "My main job has been screening satellites for operators from many nations. We track these satellites to identify close approaches with other satellites and debris in space. Currently, we track over 23,000 objects larger than 10cm. The real challenge is filtering through the hundreds of close approaches we see each day, so that the operators can move the satellite in time to avoid a collision. All the safety considerations of air and sea travel now pertain to space travel at a vastly enhanced level because the costs and risks are even higher. The event of spacecraft colliding is serious to our global economy and security."
Kelso is also the founder of the CelesTrak website, the world's first private source for orbital element sets, related software, and educational materials. The site supports everyone from professionals operating satellites in orbit, to faculty, students, and other researchers investigating the space environment, to individuals who just want to go out to see the space station pass over.
I am a big supporter of MEDB's STEM (science, technology, engineering, mathematics) programs. In past years, I led teacher workshops at AMOS and hosted a star party to introduce attendees to the wonders of the Maui sky.
Dr. T.S. Kelso, Space Data Association T.S. Kelso Award Winner