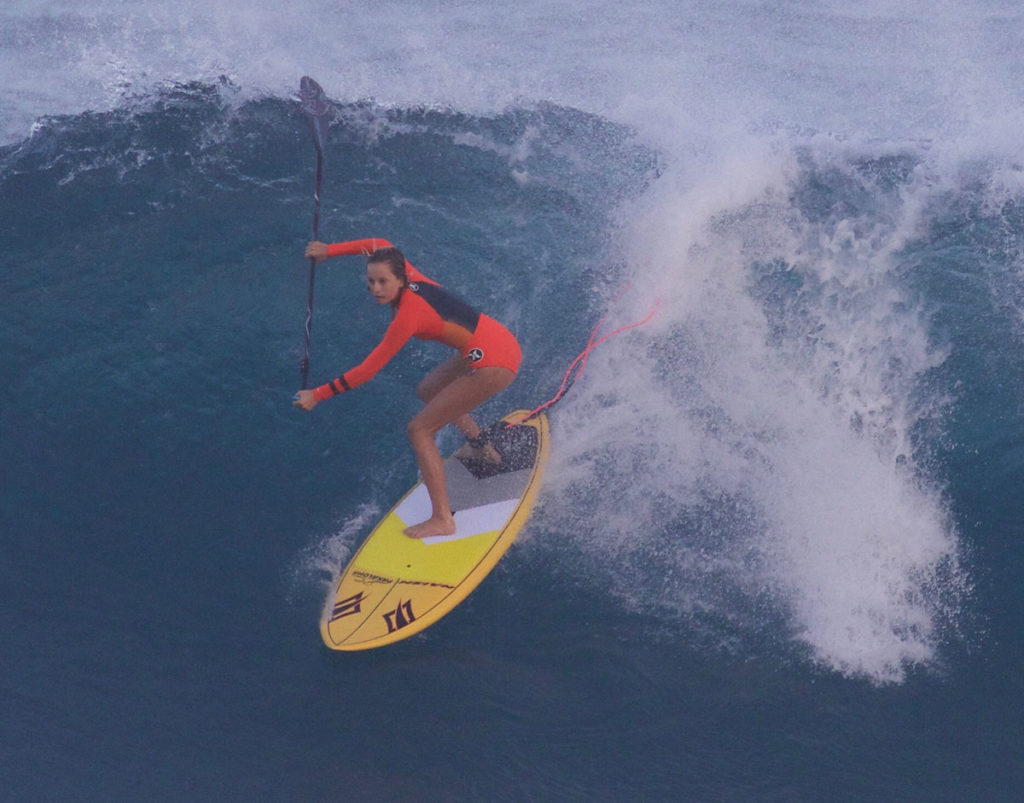 Maui Economic Development Board's Women in Technology STEMworks™ Laboratory extends to the surf. Sixteen-year-old Maui surfer Annie Reickert explains this. "Mastering surfing is all about mastering science," said Reickert. "You need to know how the waves travel across the ocean carrying energy as they go and how you can capture some of this energy to move yourself along. Whether you are surfing or body-boarding, riding a long board or whizzing on a skim board, you're using cool science in a very cool way."
Reickert has been surfing since she was five years old. Born and raised on Maui, she is passionate about being on the water and standup-paddling (SUP). Her connection and devotion to the ocean has led her to homeschooling so that she can compete on the SUP World Tour. Reickert has placed first in some prestigious SUP races including the Olukai, Paddle Imua, Women's Open World Series Huntington Beach and the U-17 Battle of the Paddle. Most recently, in California, she took first place in the highly competitive 2016 SUP Santa Cruz Paddlefest. As the youngest member of the Naish Team riders, individuals at the top of their sport, Reickert's future holds world-wide competitions including the 2017 International Surfing Association World Championship in Denmark and perhaps to be the SUP World Champion.
"I get up at 5:30 every morning and head for the water," said Reickert. "After my training time I start school at 9 am. If I finish my schoolwork early, I head back to surf in the afternoon." With an interest in Marine Biology, Reickert is motivated to do her best in school and surf. "You need both a scientific understanding and an intuitive understanding of the dynamics of the water," Reickert noted. "A surfer wants to catch a wave just as it is breaking—which is when it has maximum speed. To catch the wave, a surfer's velocity must be equal to the wave's velocity, and then you feel the board being carried along by the wave."
Science can explain most of the things you notice when you're riding along on your surfboard. For example, the weight and dynamics of the board can affect any of the variables in your performance.
Annie Reickert, Professional Surfer, 11th grade