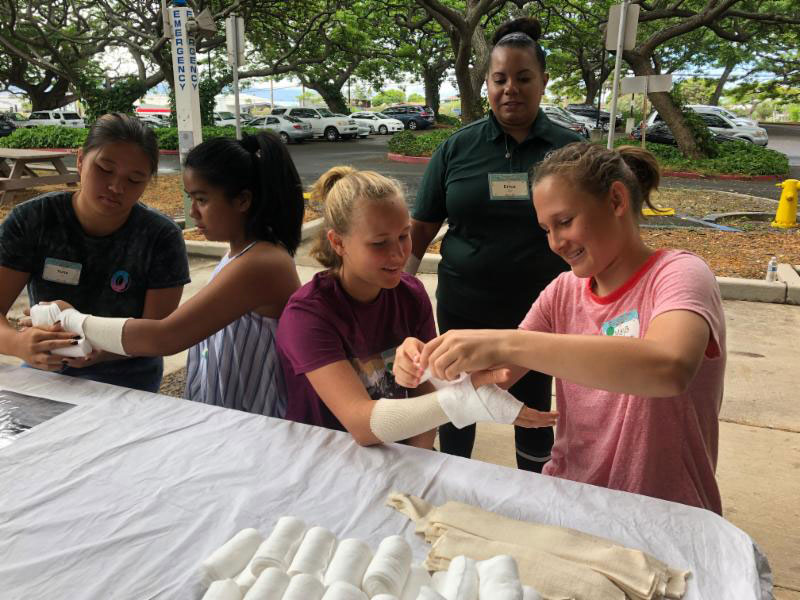 In June, students from Maui, Moloka'i and Lana'i took part in Summer Adventures in Healthcare. The three-day event was presented by the Maui County Healthcare Partnership (MCHP) and Maui Economic Development Board's (MEDB) STEMworks™. MCHP, originally launched in March 2017, is an alliance of healthcare organizations across Maui County− coordinated and staffed by MEDB. Together, they are motivated by the shared needs of the County's numerous participating healthcare providers.
"The state of Hawaii has a shortage of physicians right now and an even greater shortage in most other health professions," said Lalaine Pasion, STEMworks™ Project Manager. "The MCHP event introduced Maui County middle- and high-schoolers to the healthcare systems within their communities."
Fueling their curiosity for possible careers, the students toured local healthcare facilities including Maui Memorial Medical Center (MMMC), Hale Makua, the Pacific Cancer Institute, and the University of Hawaii Maui College Nursing Program. Throughout the event, mentors and volunteers created inspiring and memorable experiences for them. Participants learned essential life skills with a variety of medical instruments and hands-on practices. They met with patients, took vital signs, and learned how to cast a broken arm. Additionally, students joined a public health team designed to combat malaria around the world. They learned how to extract DNA from a strawberry and how it relates to vaccinations.
Brenton Turner, MSHA, CMD, RT(R)(T) Pacific Cancer Institute, told the students, "Identify how you can turn a passion into a healthcare career, and recognize that healthcare offers many career options beyond doctors or nurses."
Chaenel Deluna, Moloka'i High School, said, "Our visit to the hospital made such an impact on me. We learned about the different careers it takes to run one. I didn't realize how many people worked for MMMC!"
Baldwin High School student Kazzandra Anton noted, "Our final Summer Adventures in Healthcare experience featured six hours of CPR, First Aid, AED, and HIPAA training and certification. This valuable hands-on experience provided us with skills we can always use to save lives. I'm thankful to MCHP and MEDB for this opportunity to learn about possible healthcare careers right here in Hawaii."
MCHP strives to improve the healthcare delivery system of Maui County. During Summer Adventures in Healthcare they provided students with an interactive healthcare experience in an exciting and fun way.
Lalaine Pasion, STEMworks™ Project Manager