Maui Economic Development Board's STEMworks™ Internship Program inspires the next STEM (science, technology, engineering, mathematics) generation. Under the internship program, students in grades nine through college have a unique opportunity to explore technical and professional development, and gain confidence in their ability to be a STEM professional. STEMworks™ emphasizes connecting the dots among curriculum, software tools available in the classroom, and real world applications. Interns will gain valuable on-the-job skills while being able to network with industry professionals; a win-win outcome.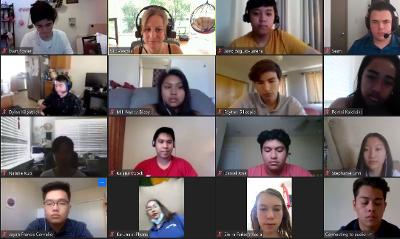 "This year, due to COVID-19, the STEMworks™ team worked hard to personalize work-based learning experiences in the new virtual dimensions," said Katie Taladay, STEMworks™ Program Manager. "We collaborated with internship host companies and our community partners to help reshape the plan for this year's program. The summer internship, held virtually for four weeks instead of the standard six weeks, will provide interns with the opportunity to use industry-standard technologies to complete projects. Additionally, the interns participate in weekly webinars to help them develop college preparatory and career skills."
"STEMworks™ Intern Peyton Gillespie said, "The STEMworks™ Summer Internship team has brought together a wide variety of organizations and students from almost every island. I am looking forward to my third year participating in the program. Despite the unprecedented circumstances and the internships being moved online, I am confident that we are going to have just as productive a year as any other. We launched this year's event with a virtual kickoff, introducing us to the online format, details of our individual internships, and an overall opportunity to learn about various STEM careers."
Gillespie added, "For the past two years, I interned on Molokai at Keawanui Fishpond working in natural resource management and preservation of a cultural site. I built on my leadership, teamwork, agriculture, aquaculture, and resource management skillsets, not to mention the network I built both working at the Fishpond and with the STEMworks™ team. This year, I will be the liaison between the STEMworks™ interns and the staff. I am looking forward to following the other interns on their paths as well."
The STEMworks™ team efficiently moved the program online and I am excited to take part in this new kind of intern experience.
Peyton Gillespie, STEMworks™ Intern