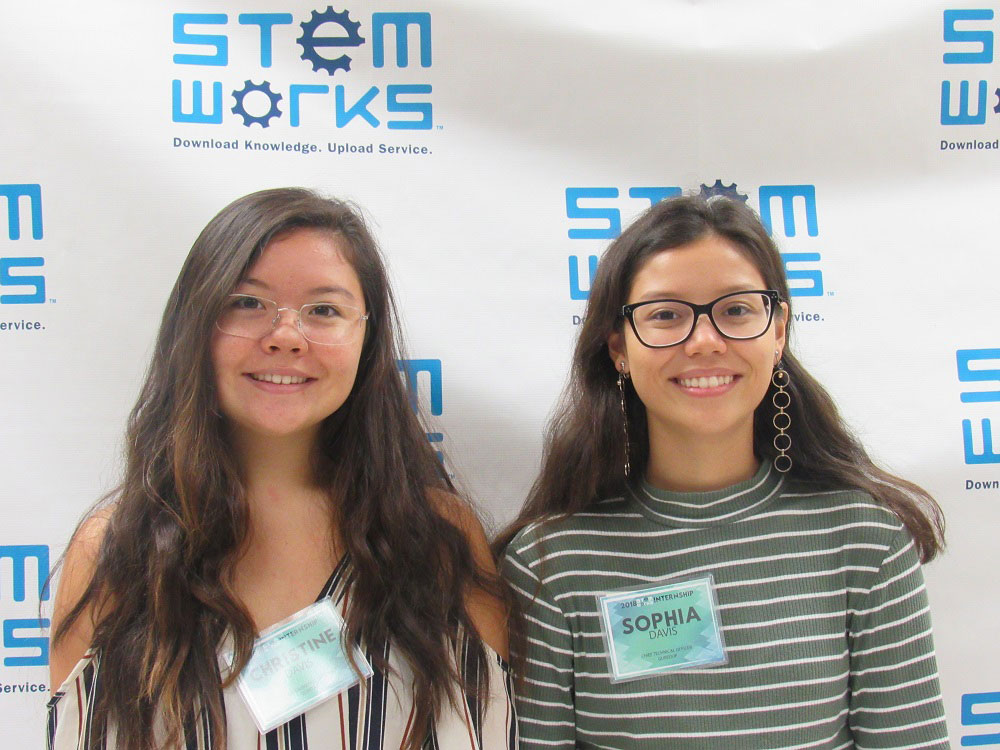 Sophia and Christine Davis, Kihei Charter School, were among 31 of the most promising STEM (science, technology, engineering, mathematics) high school and college students presenting their innovative projects at the 2018 STEMworks™ Summer Internship Showcase. Created by Maui Economic Development Board's (MEDB) Women in Technology Project (WIT), the six-week STEMworks™ Summer Internship provides statewide, work-based learning opportunities for students, matching their interest and skills with the needs of the host company.
Mentor Ron Viloria from qubedup Company noted, "STEMworks™, cultivated by MEDB's WIT, has proven itself to be the single most valuable resource for my company's launch. The Davis sisters had the opportunity to step up and grow the qubedup work environment. During the last six weeks my company went from just being registered to having a web presence and items for sale. Sophia has built a prototype "smart lei" that has safety, medical, and entertainment applications. It's our take on improving and promoting a portion of local Hawaiian culture."
Viloria continued, "Christine heads the Social Media campaigns of the company and started a Hawaii-positivity movement for the community. Everything is rooted in stories and their stories are just unfolding."
Sophia said, "My STEMworks™ Internship projects were several notably different yet connected projects. My first project was a smart lei, a unique Hawaiian-style wearable technology with various lights and sensors that react to the world around it. The second was creating digital designs that have an extra story or layer for our Redbubble portfolio and other print-on-demand merchandise services. The final project is designing and coding a special web app for qubedup that has a connection to some of my designs. Thanks MEDB for hands-on experience in a real workplace!"
Christine added, "At qubedup, I worked on creating innovative fashion technology that included marketing, social media managing, and logo designs for products. Being a STEMworks™ intern means being part of a network of passionate individuals in the STEM education movement. It helped me solidify potential career paths, dedicate myself to interesting and innovative work, and change the world through STEM."
STEMworks™ students have a unique opportunity to explore technical and professional development and embrace new life skills to create change in their local communities.
Lalaine Pasion, WIT Project Assistant