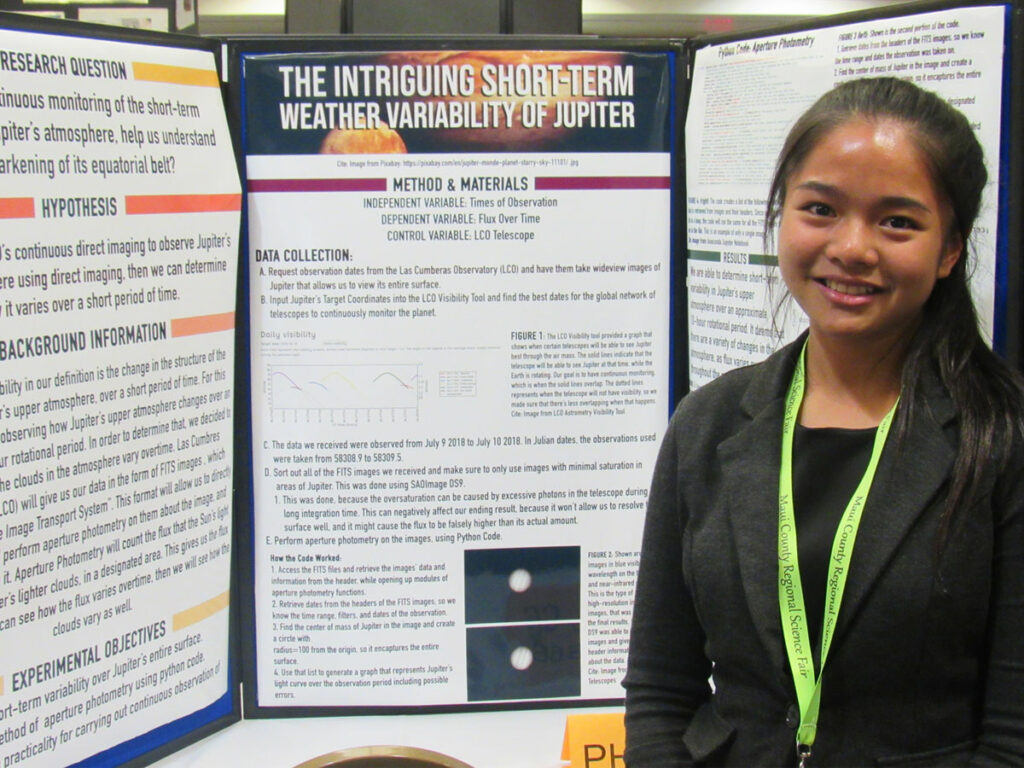 Maui High School 9th grader Faith Christy Soliven won First Place Senior Division Physics and Astronomy at the 60th Maui County Regional Science & Engineering Fair. Her project was "The Intriguing Short-Term Weather Variability of Jupiter". One of the 18 merit award winners, Soliven will represent the Maui District in the Hawaii State Science & Engineering Fair on Oahu, April 8-10.
"My project investigates the short-term changes of Jupiter's upper atmospheric structure over a 10-hour rotational period," Soliven explained. "Data from the Las Cumbres telescopes allowed my mentor, Jessica Schonhut-Stasik, graduate student at the UH Institute for Astronomy in Hilo, and I to monitor the change in flux over the surface during a rotation period to see how Jupiter's weather varies in the upper atmosphere as it rotates. Jupiter was good to observe, because of its large size, closeness, and brightness. Studying Jupiter's short-term variability is a good pilot test for observing other planet's weather in the future. We expect the observations can help us learn more about similar planets and how they affect the near-Earth space environment."
Schonhut-Stasik said, "Faith is one of the best science students I've had. I'm so proud of her advancing to State on her first attempt. Also, I'm pleased that she has learned coding for Python. Coding is valuable for every graduate now and I'm glad I could provide her with that opportunity. I think we can expect awesome things from Faith, at State and in the coming years."
Soliven was introduced to the concepts of STEM (science, technology, engineering, mathematics) at Lokelani Intermediate School, a Maui Economic Development Board (MEDB) STEMworks™ school. "Sponsored by MEDB, I went to my first Hawaii STEM Conference and on field trips like 'Introduce a Girl to Astronomy Day' at the Haleakala Observatory," said Soliven. "Being involved in these opportunities and extracurriculars inspired me to consider the vast number of opportunities provided in the STEM industry. I learned so much about the skills needed to perform problem-solving tasks and how applying that to the real world can make a huge difference in my life and impact many others."
My motivation for this project was the idea of wanting to apply astronomy to understand our own planet and the solar system.
Faith Christy Soliven, Maui High School 9th grade