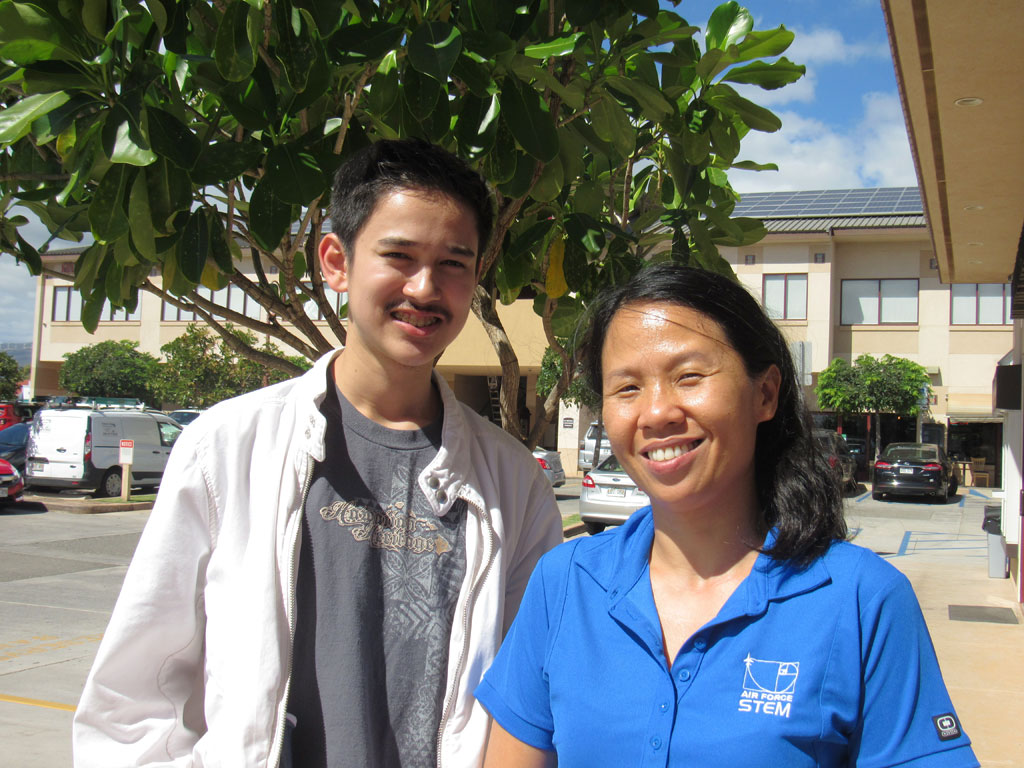 MacKelan Mitchell, a King Kekaulike High School senior, wants to be an aerospace engineer. Luckily, he also happens to be a student in Maui Economic Development Board's (MEDB) Women in Technology (WIT) STEMworks™ Laboratory. "WIT's program helps students gain real world experience in a career they are pursuing," said Mapu Quitazol, MEDB Project Manager. "Mitchell wanted to learn from experts about what they do in their career and what college courses got them where they are. We are fortunate to have a handful of specialists at the Air Force Research Laboratory (AFRL) like Senior Aerospace Engineer, Dr. Kim Luu."
Dr. Luu, who works at AFRL's Directed Energy Directorate, has been honored by the Air Force for her leadership and management of critical Department of Defense Space Situational Awareness research programs. Dr. Luu has over 20 years experience and is internationally recognized for her technical expertise in satellite characterization, astrodynamics, and space debris.
"It was really great to be able to job-shadow Dr. Luu for a day," said Mitchell. "She explained about the different aspects of a career in aerospace engineering and what courses will help prepare me in the field. To be honest, I didn't actually know that there were so many different branches to the space side of engineering."
Additionally, Mitchell accompanied Dr. Luu to Wailuku to help set up the AFRL portable planetarium for a STEMworks™ outreach event for elementary and middle school students. "The digital planetarium teaches students how to understand astronomical coordinate systems, and how to use significant points to find stars, planets, and even satellites," said Mitchell. "I learned the importance of ground-based astronomy across the world. After we looked at the night sky in the planetarium, we played a short film about the Curiosity Mars Rover landing and one about going back to the Moon."
"My day of job-shadowing was very enlightening," said Mitchell. "I'm thankful to MEDB and WIT for the hands-on opportunities they offer students in the most current technologies."
Students in STEMworks™ labs are afforded the opportunity to work with local industry partners and gain skills ranging from animation to computer-aided design to engineering design and more.
Mapu Quitazol, MEDB Project Manager