Maui Economic Development Board STEMworks™ partnered with Mahi Pono, a Maui-based farming company, to present the 2022 STEMworks Solutions Challenge. The STEM (science, technology, engineering, mathematics)-related problem was open to all Hawaii high school and undergraduate college students to solve. It offered a $500 cash prize plus a summer internship with Mahi Pono, where the recipient will implement his or her winning solution, and through research and experiments, have the opportunity to improve their proposed design.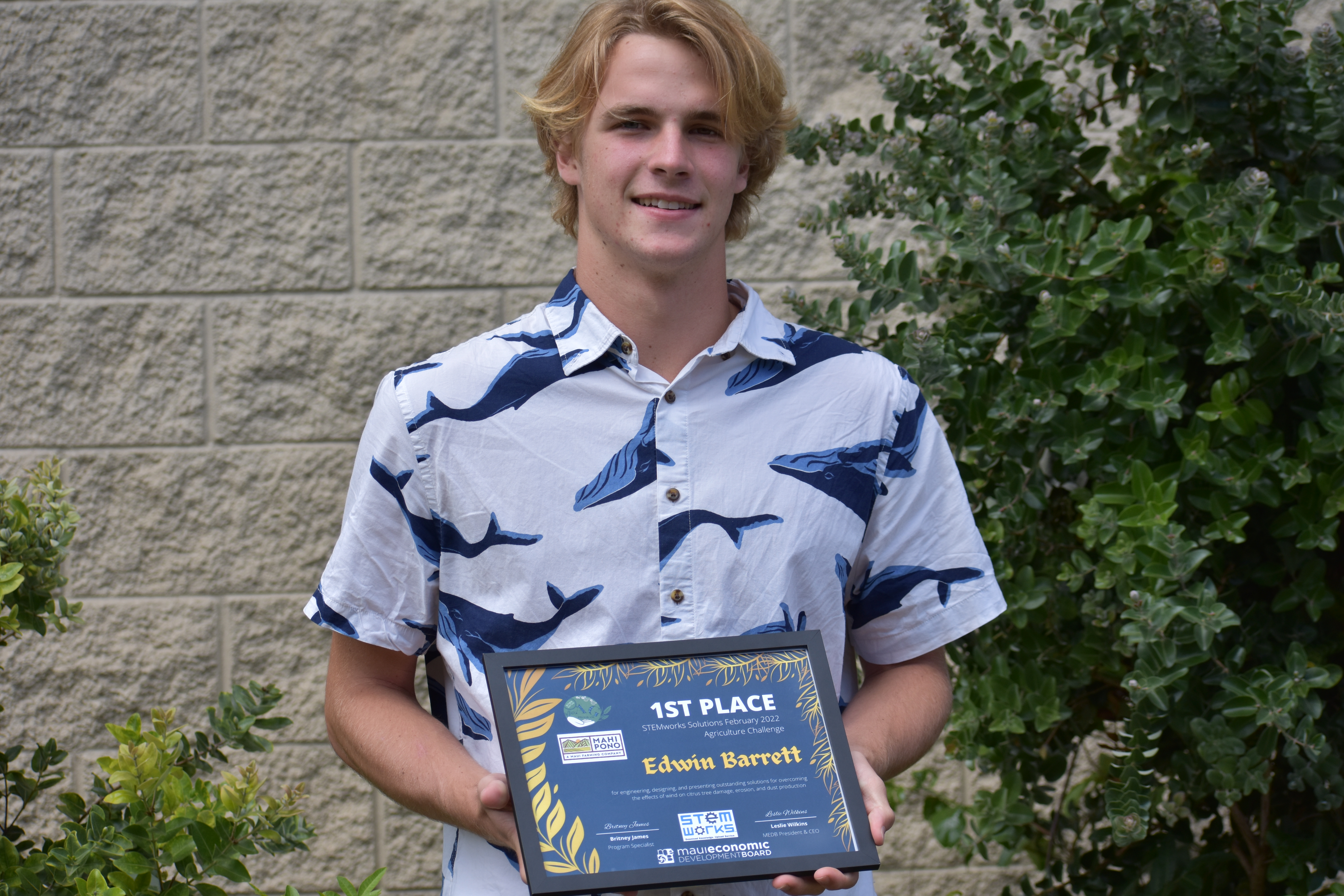 "As a company committed to a more sustainable and secure future for Maui, we know that getting the next generation involved is critical, and this is one way we are able to do that," said Shan Tsutsui, Chief Operating Officer with Mahi Pono. "These are real-world challenges we deal with in local agriculture, so we are excited to see what our participating students come up with."
This year's challenge, to overcome the effects of wind on citrus trees, including tree damage, soil erosion and dust production, sought solutions for how to keep fruit trees upright with little or no windbreak, and how to mitigate dust clouds from lack of ground cover. The event kicked off with weekly professional development meetings with Mahi Pono experts. After being briefed on the goal of the project, students submitted their proposals via PowerPoint slides accompanied by a recorded video presentation.
First-place winner, Edwin Barrett from King Kekaulike High School explained his proposal. "My solution comes in two phases. The first phase is planting a cover crop of white clover because it is a very durable and effective way to stop the majority of dirt pollution. Also, it provides many benefits to the soil such as increasing nitrogen levels which were notably low according to the soil sample and prevents wind erosion, its main benefit. Additionally, it would encourage pollination of the plant and the citrus trees and offer a possible future business venture with Maui beekeepers. Secondly, my unique designs for a solar windbreak will keep trees upright, stop the blowing of dirt even further, and achieve a muti-purpose function by combining solar and wind technologies."
My goal, to solve the problems of dust pollution and tree sustainability, was to also explore how modern technology can be implemented to have a positive impact on Maui's farming and agricultural community. I am looking forward to my summer internship.
Edwin Barrett, King Kekaulike High School