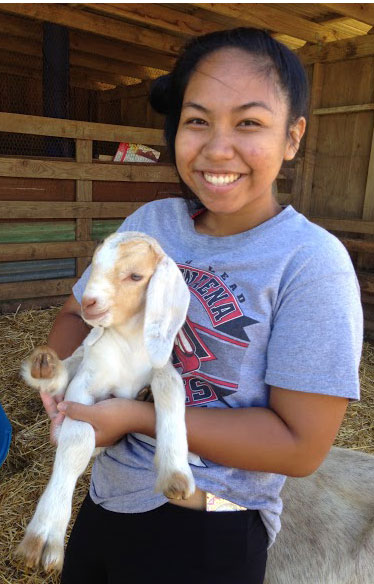 This summer, The Maui Farm staff participated as mentors in Maui Economic Development Board's (MEDB) Women in Technology (WIT) STEMworks™ Summer Internship Program. Maui Farm, a nonprofit organization, has been offering an array of farm-based educational programs to the Maui community since 1993. "Our site is a wonderful opportunity for young students to learn the nuts and bolts of sustainable farming," said Maria Leon, Maui Farm program assistant. "Our intern, Dian Taroma, a Maui High School junior, was able to practice sustainable farming techniques such as animal husbandry, natural pest control, plant nursery work and more."
With Taroma's help, in six short weeks Maui Farm reestablished their crop fields that had gone fallow. Together they dug and shaped vegetable beds, conditioned the soil with compost and amendments, sowed vegetable seeds, fertilized, and harvested healthy, organic foods. Taroma was part of the seed-to-harvest process. She also helped welcome 3 baby goats and 9 baby piglets into the world.
"On her first day, Taroma was very timid and unsure around the animals," Leon explained. "After two-weeks of animal husbandry training she was handling these animals like a pro! She was responsible for feeding pigs, goats, chickens, and bunnies daily, cleaning their pens, and even helped to give shots and sterilize umbilical stumps on our newborns. Taroma mentioned she would be interested in becoming a veterinarian because of her experience at The Maui Farm."
Taroma noted, "I performed routine farm maintenance and all tasks necessary to maintain a two-acre educational farm environment. As a versatile team player, I did physical labor while learning good communication skills with people along with knowledge of animal husbandry. I am grateful to the STEMworks™ program for the chance to understand the effort it takes to provide the community with healthy food. Knowledge of sustainable agriculture practices, organic farming, and permaculture design are important subjects for all Maui County residents to understand."
MEDB's STEMworks™ Summer Internship program is an incredibly valuable resource for our youth, especially as our island is growing and working towards becoming sustainable.
Maria Leon, Program Assistant, The Maui Farm