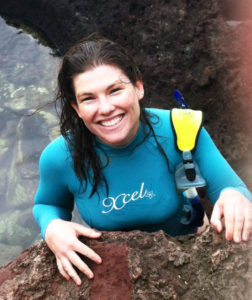 Maui Economic Development Board (MEDB), celebrating their 35th Anniversary, will hold the Annual Benefit Dinner and Auction, Pathways to Our Future, on Saturday August 26 at the Fairmont Kea Lani Maui. Thanks to donors of MEDB's Ke Alahele Education Fund, STEM (science, technology, engineering, mathematics) education is empowering students and teachers throughout Maui County.
"MEDB envisions lives fulfilled in a vibrant economy within the very special culture of Hawaii," said Graham DeVey, MEDB Program Manager. "An example is Alana Yurkanin, Assistant Marine Coordinator at The Nature Conservancy. Years ago, Yurkanin came to Baldwin High School with a variety of talents and interests, and joined one of MEDB's after-school STEM programs, Future Scientists and Engineers of America (FSEA). By senior year she'd become FSEA chapter co-president and led a team to victory at UH Engineering Expo, winning international praise for her multi-year science fair project working with sharks."
"Something about choosing to sit with a group of friends after school in this club opened me up to my own exploration of science," said Yurkanin. "I felt empowered to ask my own questions and look at my life through a scientific lens. Our time at FSEA allowed us to create electric circuits, simulate the technology used to map the surface of Mars, build and test trebuchets, and parachute eggs from a three-story building. I got to thinking, maybe science wasn't so scary – it was actually fun and approachable.
"Most of the funding for FSEA came from an organization that especially wanted to engage girls in the sciences, MEDB's Women In Technology (WIT) Project," Yurkanin recalled. "I remember WIT staffers visiting our class. I felt so inspired to see women as leaders in this technical field and so appreciative for their encouragement. WIT created incentives for kids to get involved in after-school STEM programs by providing funding for travel and lab materials. I feel that because of this experience, I can now give back to Hawai'i in meaningful ways!"
MEDB's STEM programs teach students to pitch in to improve our island environment, working mauka or makai.
Alana Yurkanin, The Nature Conservancy Assistant Marine Coordinator