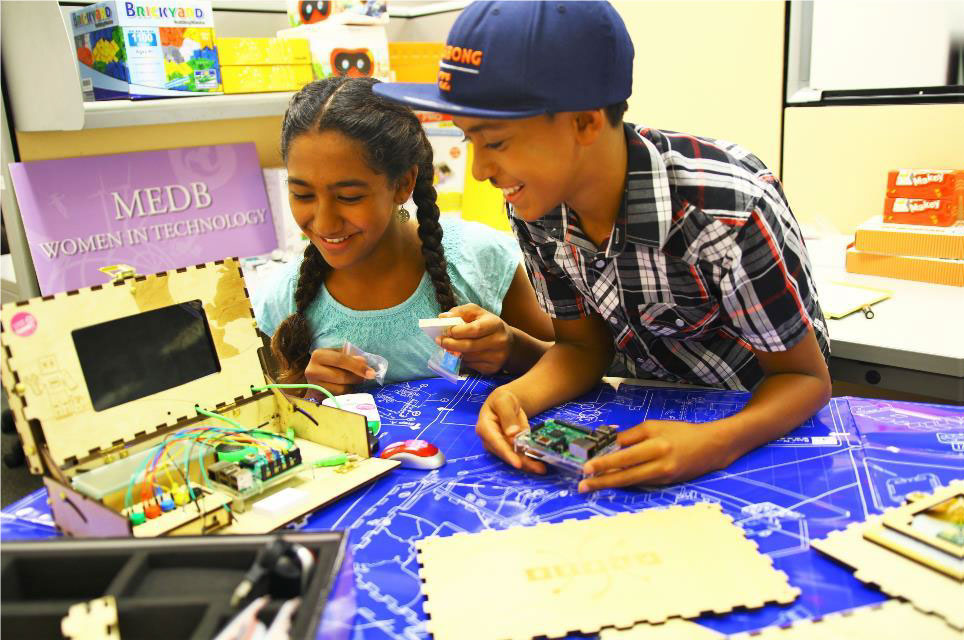 The fun STEMworks™ AFTERschool Program for 2017-2018, presented by the Women in Technology (WIT) project of the Maui Economic Development Board (MEDB), is for boys and girls, grades 6, 7 and 8. The program addresses the need to stimulate interest and build professional and career skills in STEM (science, technology, engineering and mathematics) education and then to apply it to real world issues. STEMworks™ hopes to nurture student interest throughout high school and post-secondary education, as well as prepare them to meet the workforce needs of their communities.
STEMworks™ AFTERschool, a free project-based STEM program, motivates students to solve community problems using high-end technologies with career readiness skills. "The curricula, including, coding and robotics, 3D printing and engineering CAD, agriculture, broadcasting and media, GIS and watershed, and more, is developed in close consultation with educators and industry partners," said Leslie Wilkins, MEDB President and CEO. "The flexible structure of the program allows teachers to align with in-school coursework that students do during the day."
WIT Project Manager Melinda White added, "This is more than an after-school science club! Over the past two years, students report that they have grown to become better communicators, mentors, presenters, leaders, and listeners. Students also have increased marks in academics, teamwork, and confidence. More amazingly, over 95% of participating students shared a specific STEM career that they are interested in pursuing. The program's career exposure and practice with high-end technology tools are having true impacts on what these young people plan to become."
Debbie Hisashima, Pukalani Elementary School teacher and STEMworks™ AFTERschool coordinator said, "Our STEMworks™ program nurtures children to become caring, capable, and contributing members of the 21st century. While students excitedly learn the technical skills needed for future STEM careers, they also develop other skills such as collaboration, adaptability, and critical thinking which are all necessary for a successful life."
The public is invited to come and learn about the STEMworks™ program from students at Queen Kaahumanu Center, Center Court on Wednesday, December 6th, from 4:30 to 5:45 pm.
I learned that more ideas can help people see different points of view. Our goal is to invent something that benefits the world!
5th grader, Pukalani Elementary School