Startup Weekend Maui is on November 16-18.  Learn how to launch a startup in just 54 hours while receiving invaluable insights and advice from this year's coaches and judges.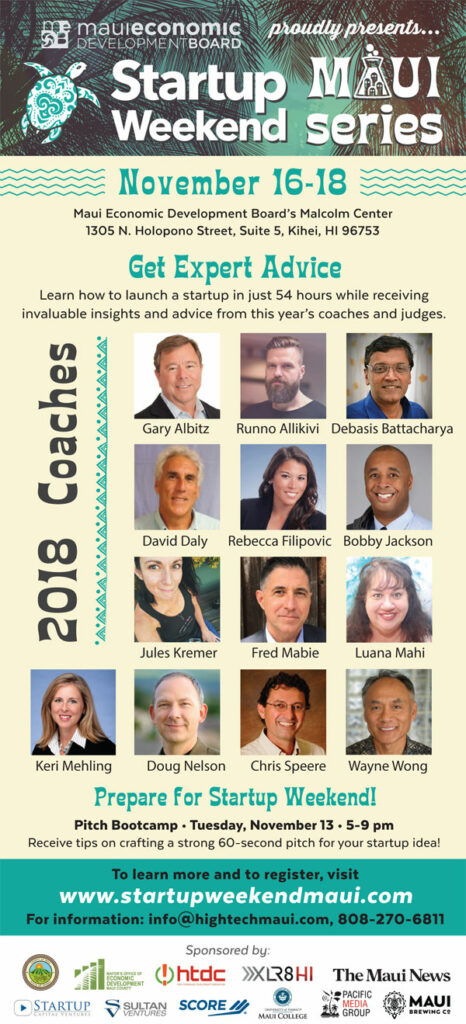 Coaches
Gary Albitz, FocalPoint Business Coach and Lecturer UH Maui College
Runno Allikivi, Head of Scandinavia at Funderbeam
Debasis Battacharya, Assistant Professor, UH Maui College
David Dal, BDC Director, MEO, Inc.
Rebecca Filipovic, Attorney, McKeon Sheldon Mehling
Bobby Jackson, Business Coach, RedRidge Consultants
Jules Kremer, Technical Project Manager at Google
Fred Mabie, Faculty member – UH Maui College, ABIT
Luana Mahi, Owner, Principal Broker, Kismet Brokerage; President of Maui Food Technology Center
Keri Mehling, Attorney & Partner, McKeon Sheldon Mehling
Doug Nelson, President, Kinection
Chris Speere, Site Coordinator,UH Maui College's Maui Food Innovation Center
Wayne Wong, Director, Hawaii Small Business Development Center – Maui Center
Judges
Virendra Nath, President HDEP International
Michael Powells, Founder Splash Inc.
Teena Rasmussen, Director of the Mayor's Office of Economic Development (OED)
Get ready!
Prepare for Startup Weekend Maui with Pitch Bootcamp, Tuesday November 13. Get tips to craft a strong 60-second pitch for your startup idea!
For more information and to register, please go to www.startupweekendmaui.com