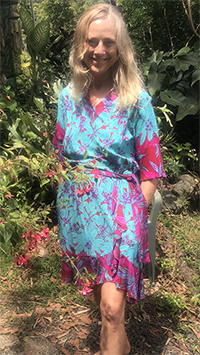 Rainbow Jo, a dynamic upcountry clothing company, offers original artwork on clothing by Maui resident and designer Michele Joy Thornton. Since 1986, Thornton has served wholesale and retail customers throughout Hawaii and beyond with innovative and updated resort wear. Headquartered in Makawao, with a factory in Indonesia and her own building with a retail store and an Airbnb in historic downtown Hilo on the Big Island, Thornton manages both her Hawaii and overseas production staff.
Creating all of her own fabrics, Thornton's designs and colors are complex, with each design requiring seven different screens for the process. She works out the color theories, doing the print designs and working with silk screeners to turn her artistic ideas into technically perfect realities.
"At Rainbow Jo, all of my original artwork is hand silk-screened onto natural fiber rayon clothing and steam set, using no chemicals to set the dye," Thornton explained. "Plus, the highest quality French seams are used to ensure that the clothing from Rainbow Jo is always perfectly made and easy to care for. The ideas for my prints are inspired by nature and Maui's beauty. I believe the continued successful growth of the company comes from my strong retail background, and my love of color and design."
Thornton started selling clothing at age 16 and through the years her work led her to Hawaii. In 1982 she received a degree in marketing from Indiana University School of Business and after years of working in the clothing industry she was ready to begin her own venture.
Thornton reflected, "My ambition was to own my own business and Maui was the perfect location. Currently, the pandemic has changed normal business routines. At Rainbow Jo we have stayed resilient with an online business and now many of our island-wide retail stores have re-opened. My plan is to stay flexible enough to know when to make changes and follow new trends and procedures. My hope is that careful planning and the hard work that built Rainbow Jo will see us through the Covid crisis. Persistence and resilience are everything!"
We feel blessed at Rainbow Jo to be resilient in an economic climate that has hit small businesses hard.
Michele Joy Thornton, Rainbow Jo, owner and designer