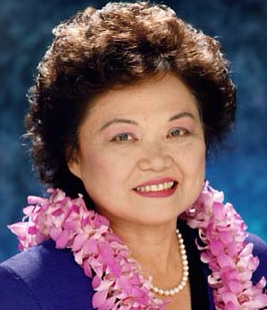 As we celebrate Women's History Month across the nation, Maui Economic Development Board (MEDB) pays tribute to the late Maui-born Patsy Takemoto Mink, whose extraordinary achievements brought gender equality and other social justice issues to the forefront. Women's History Month celebrates the contributions women have made to our country and recognizes their specific achievements over the course of American history in a variety of fields. In 1972, Time Magazine named Mink one of 100 women of the year who leveled the playing field, overcame oppression and worked to bring about changes in Hawaii and the world.
Representative Mink, rejected from numerous medical schools because she was a woman, also faced discrimination as a practicing lawyer. She then devoted her life to advocating for gender equality and educational reform. She was the first Asian-American woman to practice law in Hawaii and the first Asian-American woman elected to the U.S. House of Representatives. Mink said, "We have to build things that we want to see accomplished, in life and in our country, based on our own personal experiences, to make sure that others do not have to suffer the same discrimination."
"As a champion for equity, Congresswoman Mink was one of the most influential voices in advancing women's rights, civil rights, racial and social justice in the 20th Century," said MEDB President & CEO Leslie Wilkins. Serving Hawaii and the nation for 13 Congressional terms, Representative Mink was the principal author of Title IX in the House of Representatives, with the late Senator Birch Bayh of Indiana writing the companion legislation in the Senate. Its enactment in 1972 mandated equal access for women's academic and athletic programs in institutions receiving federal funding. Following her death in 2002, Title IX was officially renamed the Patsy Takemoto Mink Equal Opportunity in Education Act.
In October 1975, Mink told the Honolulu Star-Bulletin, "It is easy enough to vote right and be consistently with the majority, but it is often more important to be ahead of the majority. This means being willing to cut the first furrow in the ground and stand alone for a while if necessary."
Representative Mink's life-long advocacy for equality continues to inspire us to build upon her legacy.
Leslie Wilkins, President and CEO, MEDB