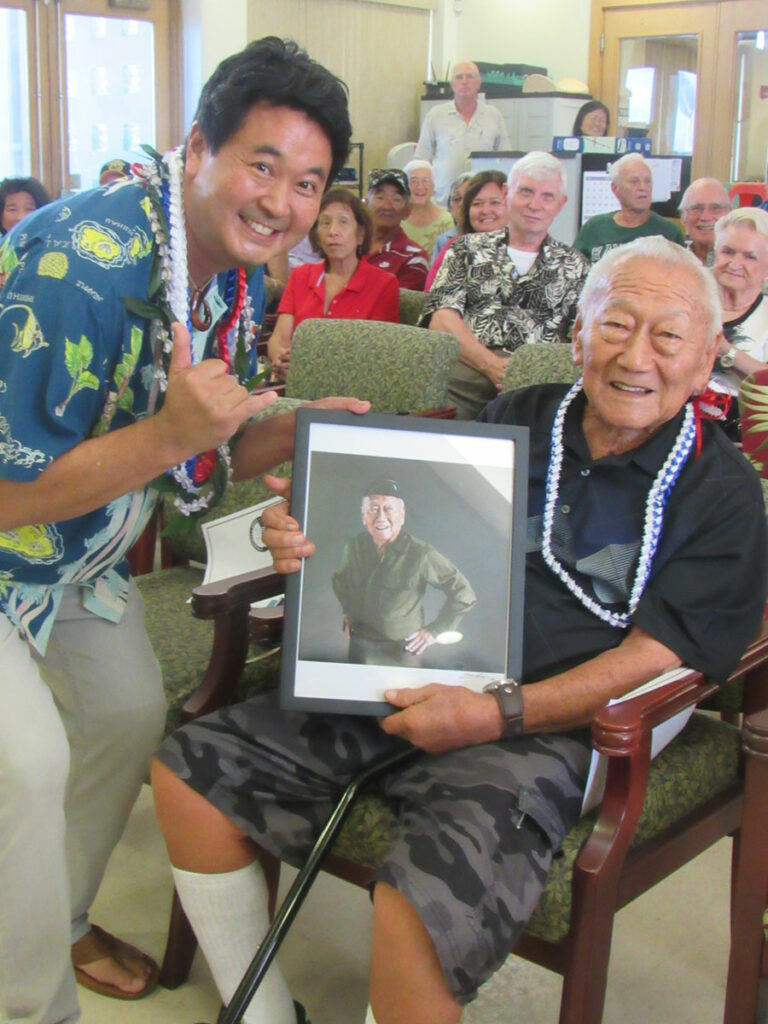 The Nisei Veterans Memorial Center recently hosted a book-signing and talk by "The Go For Broke Spirit: Portraits of Courage" photographer Shane Sato. Over 18 years in the making, Sato's coffee-table book is the second in a collection of poignant images of the Nisei (Japanese descent born in the United States) who fought for America in WWII. The 184-page, hardcover volume contains pictures of over 80 Japanese-American WWII veterans, and artistically captures, in a way not many have seen, the wide range of emotions Japanese-Americans felt after the attack on Pearl Harbor. The story of the Nisei is inspiring, and each portrait is accompanied by candid photos and a short story.
"It was a privilege to talk story with numerous Nisei veterans," said Sato. "My hope is to share the lives of the Nisei with future generations, so their accomplishments and history are not forgotten. While they were most recognized for their achievements during wartime, they did not let WWII define their entire lives. Once home, the veterans continued to work for the betterment of the Maui community, establishing a legacy of civilian service.
In 2018, Nisei marked the 75th anniversary of the loyalty, courage and sacrifice of WWII's 442nd and the 100th Infantry Battalion. The two units merged and formed a single infantry regiment. Together, they became the most decorated unit of its size and length of service in the history of the United States Army, demonstrating the importance of working together and depending on each other.
During his presentation, Sato discussed the creation of the book, his ties to the Nisei community, and stories shared by the veterans during the photography sessions. "Having Sansei and Nisei parents, one from Hawaii and the other from the U.S. mainland, has given me a unique perspective for my Japanese-American book series," Sato said. "During WWII the Nisei soldiers inspired America and showed the world what it meant to 'go for broke'. Then, they continued to lead in the community with the strength of their character and the integrity of their actions. Theirs is a triumphant story in American history!"
It is my turn to carry the torch by retelling the Nisei stories for the next generation to know about their heroes. My book inspires and energizes readers to begin their own journeys of discovery, to find the heroes within themselves.
Shane Sato, Author and Photographer