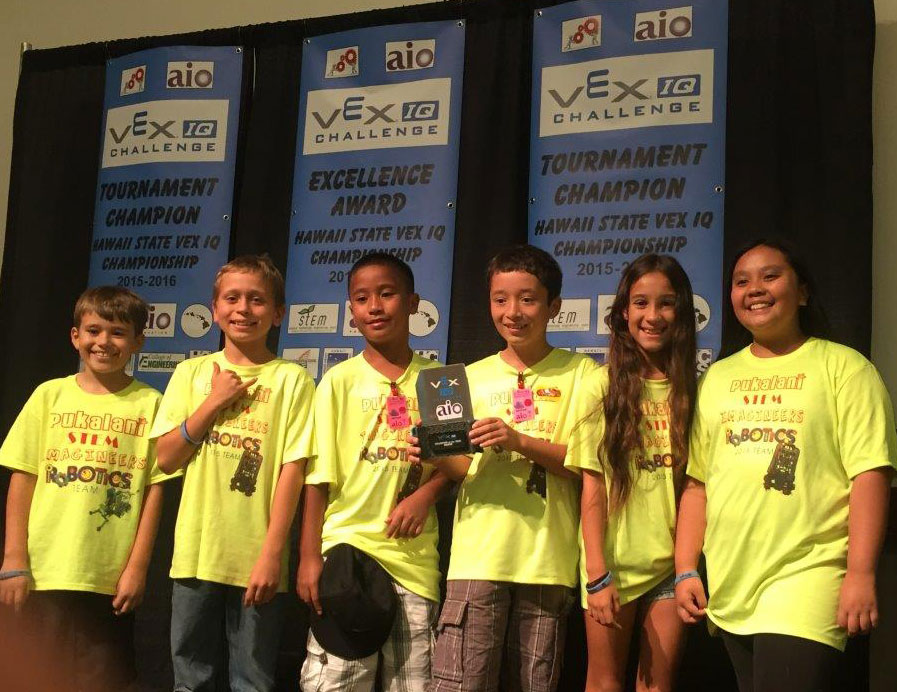 Students from Pukalani Elementary School's robotics teams competed in the invitational Hawaii State VEX IQ Robotics Championship held last month at the Hawaii Convention Center on Oahu. The Imagineer teams placed highly in Driver and Programming Skills and won 1st place in the State for their Science, Technology, Engineering and Mathematics (STEM) Research Project. By winning the Research category and placing 3rd and 4th in the state programming rankings, Pukalani's Imagineers received invitations for both their teams to compete at the VEX IQ World Championship in Louisville, Kentucky in April 2016.
"The first-place project, The Dangers of Cell Phone Radiation, demonstrated how cell phones work and most importantly how radiation is emitted from the phones," said Jasmine Domingo, Pukalani Elementary STEM Coordinator. The other team tied for 2nd place in the Teamwork Challenge for their project on "The Benefits of Video Games" which explained how video games improve physical skills with additional advantages for students with disabilities.
"The team's overall success has been the culmination of a strong commitment at Pukalani Elementary towards STEM education," said Domingo. "The last two years the Imagineers have been fortunate enough to receive grant money from Maui Economic Development Board's Ke Alahele Fund to start and grow the robotics program."
This year the students worked on VEX IQ Challenges that featured all aspects of making a robot which included programming the robot to run autonomously and driving the robot remotely. "I helped design, build and program our robot to pick up balls, dump them in the basket and go up the ramp," said 5th grader Alden Johnson. "We built over 50 different robot designs and over 20 different claw designs until we found one that worked. Being part of our Pukalani robotics team has taught me that when you work with others and stick together you can do amazing things!"
The Pukalani Elementary team is seeking sponsors to help ensure that every student will be able to take part in the April 2016 VEX IQ World Championship in Kentucky. If you would like to sponsor the team, contact Jasmine Domingo at (808) 573-8760.
Part of the Hawaii state VEX IQ Robotics Championship is the autonomous programming skills challenge, in which students write code to control the robot's behavior. It was here the Pukalani Imagineers have had much success, and are currently ranked in the top 20 elementary teams in the world and 3rd and 4th highest in Hawaii.
Jasmine Domingo, Pukalani Elementary School STEM Coordinator