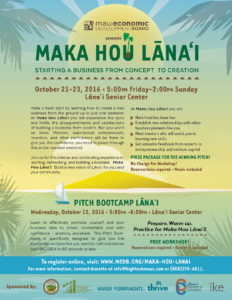 Two workshops coming up this month will be invaluable to anyone thinking of starting a business on Lāna'i: An evening "pitch bootcamp" next week, and a weekend workshop October 21-23. Both are free and include meals. Details and registration info below.
Maka Hou Lāna'i
Maka Hou Lāna'i Business Workshop: Starting a business from concept to creation
Make a fresh start by learning how to create a new business from the ground up in just one weekend. At Maka Hou Lāna'i you will experience the spills and thrills, the disappointments and satisfactions of building a business from scratch. But you won't be alone. Mentors, experienced entrepreneurs, investors, and other participants will be there to give you the confidence you need to power through this action-packed weekend.
PRIZE PACKAGE FOR THE WINNING PITCH!
October 21-23, 2016 at the Lāna'i Senior Center. 5:00PM Friday-2:00PM Sunday. There is no charge for this workshop, but reservations are required. Meals are included!
Pitch Bootcamp Lāna'i
Prepare. Warm up. Practice for Maka Hou Lāna'i!
Learn to effectively promote yourself and your business idea to others comfortably and with confidence – anytime, anywhere. This Pitch Bootcamp is specifically designed to give you the knowledge and practice you need to craft and deliver your BIG IDEA in 60 seconds or less.
Wednesday, October 12, 2016 5:00PM-8:00PM at the Lāna'i Senior Center. This workshop is FREE, but reservations are required. Dinner is included!
Register now
To register online, visit www.medb.org/MAKA-HOU-LANAI
For more information, contact Annette at info@hightechmaui.com or (808)270-6811.