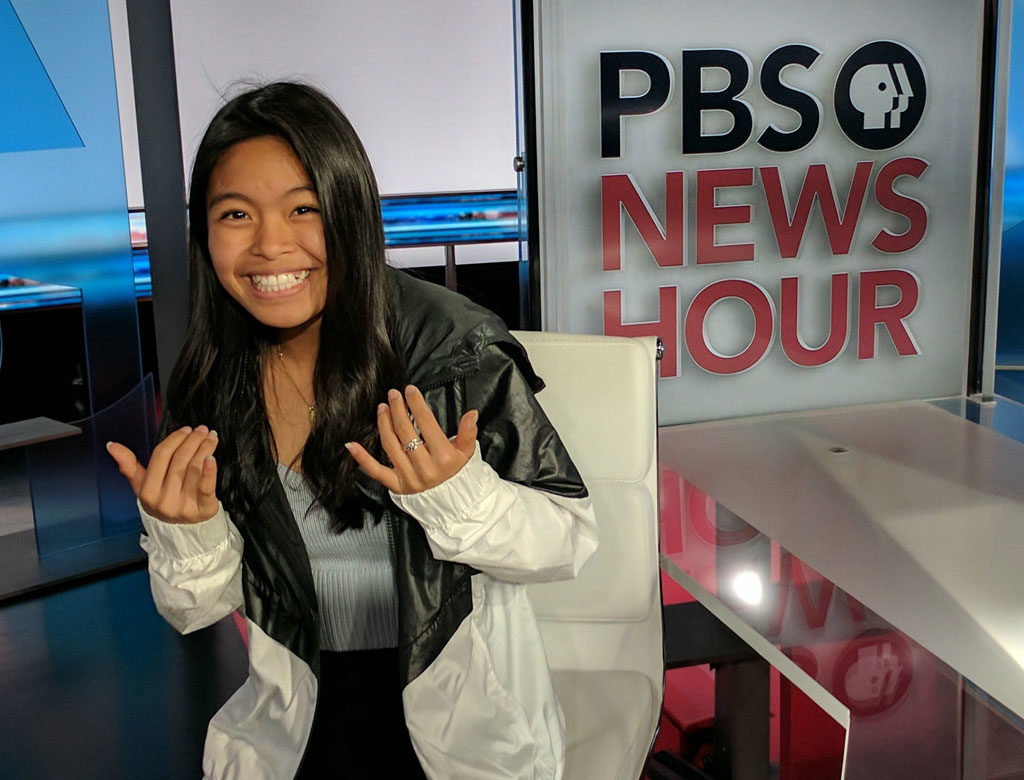 Jaycie Iha from Maui Waena Intermediate School and Axl Reitz Daguio from Maui High School were among twenty talented PBS (Public Broadcasting System) Youth Fellow storytellers from 13 states, who convened in Washington, D. C. this summer. The third annual Student Reporting Labs (SRL) Academy was an initiative of PBS NewsHour to advance the future of journalism and public media. The middle- and high-school fellows worked alongside public media mentors to produce original digital content and sharpen their journalism and productions skills. The Fellows also helped program leaders develop strategies to engage young people with the news and current affairs, and ensure that diverse youth voices are active in the conversations about critical issues facing the nation.
During the 2016-17 school year, these young journalists contributed to the NewsHour's broadcast and digital platforms. While they were in D.C., they created stories on numerous subjects. "It was an amazing experience," said Iha, Maui Waena 8th grader, recalling her experience of journalistic inquiry and media production. "I learned so much and made inspiring connections to real journalists and students who love telling stories as much as I do. Along with three other students from various states, I produced a story about the Quander family. This family is one of the oldest recorded African American families in the U.S., whose ancestors worked for George Washington. My Academy opportunity reconfirmed my journalistic career decision to tell important community stories to the world."
Jennifer Suzuki, Maui Waena Intermediate School Technology Club Advisor and trip chaperone, said, "The opportunity that this Academy gives students is remarkable. They bring together the best and most dedicated media students from around the country and help them hone their journalistic skills. Students tour the PBS studios, have lunch with real reporters, editors, and producers, have their work critiqued by industry experts, and meet kindred spirits. Most of all they see that the world and their opportunities to make a difference are much greater than they knew."
Without our STEMworks™ Afterschool program made possible by a partnership with MEDB's Women in Technology, Iha would not have been prepared or selected for the SRL Academy.
Jennifer Suzuki, Maui Waena Intermediate School STEMworks™ Facilitator and Technology Club Advisor