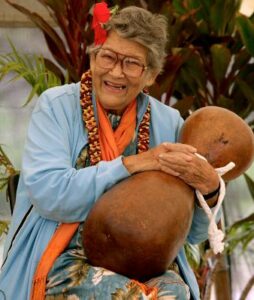 On Thursday August 27 at 9:00 pm, PBS Hawai'i will present the world premiere of Hawaiiana, a new documentary about the late Winona Kapuailohiamanonokalani Desha Beamer, or Aunty Nona as she was fondly called. Credited with coining the term Hawaiiana as early as 1949, Aunty Nona used it to describe the absolute best of all things Hawaiian: the people, their knowledge, culture, wisdom, and aloha. Keola Beamer, Aunty Nona's oldest son, assisted by his wife Moanalani and veteran Maui-based filmmaker Tom Vendetti, made the documentary about the well-known and much loved Hawaiian heroine who is renowned for her integrity, scholarship, and love.
"My mother is a lifelong teacher of helping to nurture the love of hula and mele in Hawai'i, and her legendary wisdom continues to spread much needed aloha around the world," said Keola, a Hawaiian slack-key guitarist and Grammy Award nominee. "She was a revered Hawaiian cultural treasure and is warmly remembered by thousands of her students. When Moanalani and I think of her many contributions, we are filled with gratitude. Her existence on this earth was a blessing to all."
Vendetti said Beamer, his dear friend, asked him to do the project. "Even though there have been other films made about her, with basically people talking about her, this film is focused on Aunty Nona telling her own story, along with family members," Vendetti explained. "After hearing Aunty Nona's definition of Hawaiiana, I thought it would make a wonderful title for the film, as she explores, in her own words, the journey of her life and her fight toward preserving, perpetuating and creating awareness of Hawaiian culture. I was truly touched  and honored to take on the project, which will also be distributed this Fall around the nation and beyond by American Public Television."
Vendetti reflected, "Aunty Nona is still well-known as a pioneer, ali'i, musician and a humanitarian. Her wisdom of spreading aloha around the world is something that everyone should hear. Considering the current cultural issues that we are confronting, I think her message will resonate and offer hope for the world. She was truly a Lady of Aloha."
Aunty Nona was the granddaughter of Helen Desha Beamer and cousin to Hawaiian Music Hall of Fame inductee Mahi Beamer.
Tom Vendetti, Maui-based Filmmaker