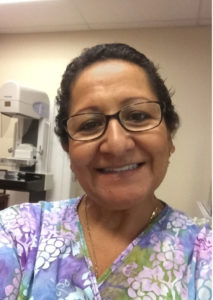 On October 8-9, over 200 cancer survivors and supporters will paddle six-person outrigger canoes across the 'Au'au Channel from Lahaina to Lanai. The Pacific Cancer Foundation's (PCF) 8th Annual Paddle for Life fundraiser, a 34-mile round trip journey to raise funds for Maui's cancer community, is not a race; it's a voyage. "The PCF says there is truly a remarkable parallel between an ocean paddling voyage and the journey experienced by cancer patients and survivors," said Pina Wallace, mammographer at Maui Diagnostic Imaging in Kihei. "Both involve tremendous physical, mental and emotional strength. Both require patience and perseverance. And, ultimately, it takes a team to make the journey successful."
This summer marks 17 years that Wallace is a mammographer. On August 19th, 2015 she was diagnosed with Stage 3 breast cancer. "I have had 12 normal mammograms," said Wallace. "However, my breast tissue was noted on the reports as being extremely dense. Basically my cancer was hidden in the dense breast tissue and was not detected early. Had I had a routine ultrasound for dense breast, it would have been caught at an earlier stage." Wallace suggests that women need to be familiar with normal lumps and bumps of breast tissue even after a successful mammogram and then discuss it with their doctor.
This year has been surreal for Wallace. She has experienced aggressive chemo therapy, a modified left breast mastectomy, and radiation treatment through her cancer journey. "With Breast Cancer Awareness Month approaching I wanted to take part in the 8th annual Paddle for Life fundraiser," she said. "It's an opportunity for me to give back to the county of Maui which has embraced me with the true spirit of aloha." Excited about the Lanai voyage, Wallace knows it will be very spiritual and healing. "I just finished my last treatment on September 2. I can't think of a better way to celebrate than with my teammates on this two-day voyage." A fundraiser link for Wallace and other participants is http://paddleforlife2016.myevent.com. For more info visit www.pacificcancerfoundation.org.
Many of the paddlers are cancer survivors. Several have had double mastectomies and others are undergoing treatments for other cancers. Mahalo to everyone who supports our voyage and cause.
Pina Wallace, Mammographer, Maui Diagnostic Imaging, Kihei