Located on the slopes of Haleakala, the Kula Botanical Garden encompasses ten acres with thousands of distinctive Christmas trees in different sizes and varieties. The Garden also showcases colorful and unique plants, rock formations, a covered bridge, waterfalls, a wedding gazebo, koi pond, aviary, and a carved tiki exhibit. The gift shop features items made in Hawaii, home-grown coffee, and things of botanical interest.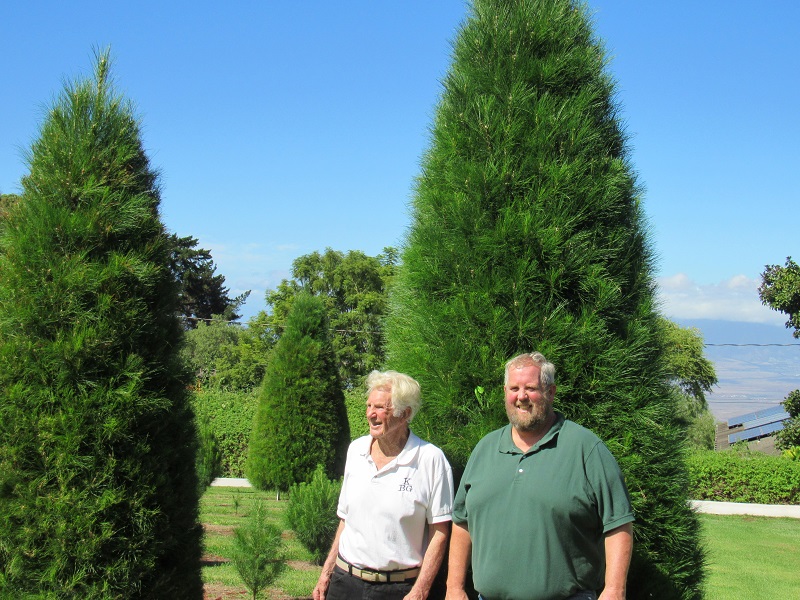 Established in 1968 by Warren and the late Helen McCord as a display garden for Warren's landscape architecture business, the Botanical Garden has evolved into a tourist destination that draws thousands of visitors every year. Currently, they are also one of the largest growers of Christmas trees on Maui. Each year, the McCord family plants, prunes, and harvests a new crop of Monterey Pine and other types of trees.
"Growing Christmas trees is an all-year adventure," explained general manager Kevin McCord. "Planting is the easy part, then the real work begins. Christmas trees are considered to be one of the most labor-intensive of all farm crops. It takes monthly attention plus three to four years of tree farming to create that 'best ever' Christmas tree."
McCord pointed out, "For those who cannot make it on December 4, 5, 6, 12, and 13 from 9am to 4pm, the trees will also be available at the gift shop for a limited time in December. Every year, extra-large and over-sized trees are available to local businesses and hotels. Additionally, our staff helps customers clean and load the tree onto their vehicle."
Upcountry resident Janet Makua reflected, "Almost all the members of the Makua family have worked at the McCord's annual Christmas tree sales since the early 1980s. It is a joy-filled experience to see the children's eyes light up as we help families pick out their perfect tree, with a candy cane included."
McCord concluded, "With the Christmas season comes the joy, the sharing, the warm memories of treasured family experiences. We like to think that our trees become the centerpiece of a family's holiday tradition. Our fondest hope is that someone says, "This is the best tree ever!"
As a family owned and operated business we take great pride in sharing our garden with the Maui community and visitors to our island.
Warren McCord, Owner, Kula Botanical Garden