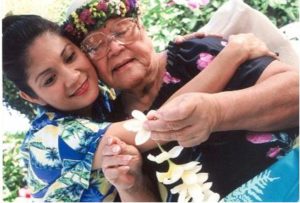 One of the central values surfaced by MEDB's countywide community engagement of our residents, Focus Maui Nui, was the "addressing of human needs." Na Hoaloha is a Maui organization that lives and breathes that value. It is a grass roots organization that promotes social responsibility and addresses human needs by providing compassionate care to seniors and those with disabilities.
As Maui County's population ages, many residents will be faced with caring for a family member or will need services themselves. Na Hoaloha's mission is to help seniors live independently in their own homes for as long as possible and enhance their quality of life.
"Na Hoaloha, meaning 'loving friends', was incorporated in 1995 as a 501(C)(3) nonprofit," said Candice Carter, Na Hoaloha Executive Director. "We began with the Maui County Office on Aging and 21 faith-based congregations working together to define how best to serve Maui's kupuna." Today, delivered by over 230 volunteers, Na Hoaloha provides escorted transportation for more than 625 seniors throughout Maui County including Hana and the islands of Lanai and Molokai.
"This year Na Hoaloha's client intake shot up by 60%," said Carter. "We match volunteers with participants to ensure compatibility, resulting in support and friendship to our kupuna. Our volunteers provide transport services, friendly visits, telephone reassurance, and respite services. Since we are a small agency, we have the added advantage of flexibility to create innovative programs to meet the challenges for Maui County's older adults."
Na Hoaloha's founder, Sister Roselani Enomoto, CSJ, was born and raised on Maui. She grew up in a family-oriented culture with the principle of 'kuleana', meaning responsibility. "Sister Roselani wanted to help Maui's kupuna maintain grace and dignity while living in their own 'hale'," Carter added. "She currently partners with Na Hoaloha on projects that benefit elders in the community." Na Hoaloha is always looking for committed individuals to help them meet the growing senior population. They are currently recruiting volunteers to help serve as well as members for their Board of Directors.
Through our dedicated and compassionate volunteers, Maui County seniors can get help with their medical appointments, shopping and overall care.
Candice Carter, Executive Director, Na Hoaloha