Nationwide and on Maui, October is observed as National Breast Cancer Awareness Month. This health campaign, organized by major breast cancer charities and non-profits, was developed to increase awareness of the disease and raise funds for research on its cause, prevention, diagnosis, treatment, and cure.
Various Maui hotels, businesses, schools, and organizations, including the Maui Police Department, band together to educate the community. Their message emphasizes early screenings for cancer, currently the most effective way of dealing with the disease before it becomes too advanced to control. Awareness of the signs and finding help after a diagnosis are a vital part of this education.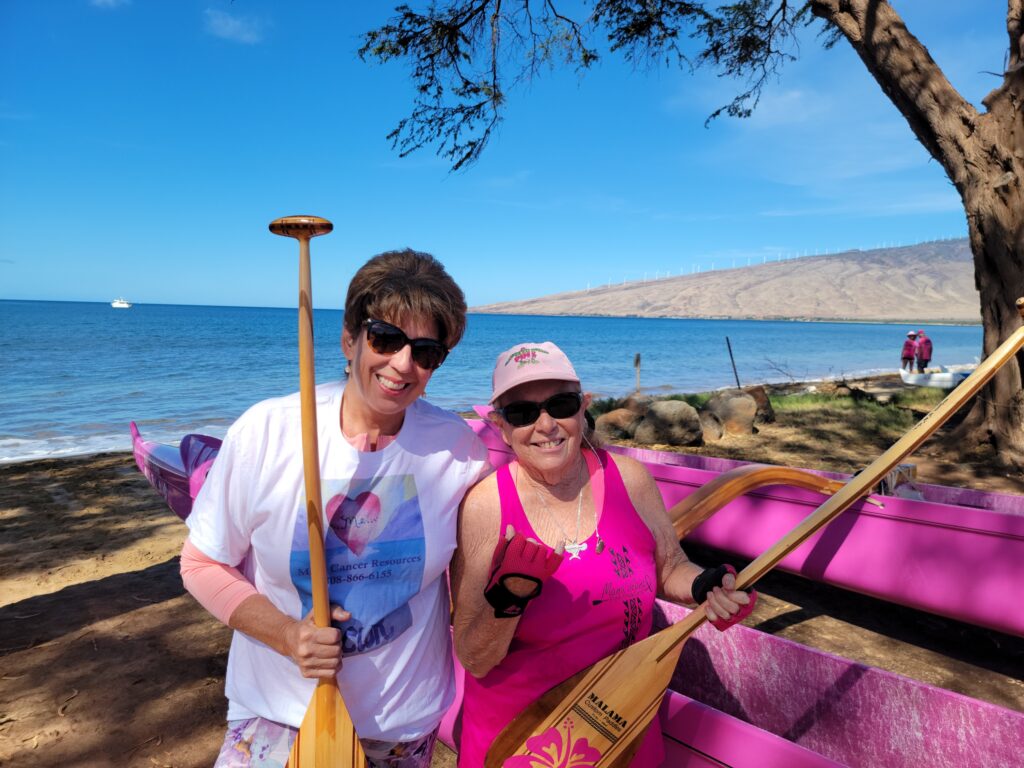 Two Maui nonprofits, Mana'olana Pink Paddlers and Maui Cancer Resources (MCR) have joined forces in their efforts to assist cancer patients and survivors. Dr. Bridget Bongaard, Maui Cancer Resources Medical Director, founded MCR to offer Integrative Oncology consultations.
"Our goal is to create a comprehensive cancer support program and grow outreach services to support Maui cancer patients to achieve maximum positive outcomes," said Bongaard. "By providing survivors with a personal cancer journey guide, we walk them step-by-step through the challenges that arise from diagnosis and treatment to recovery. In addition, MCR offers weekly on-line support groups, mindfulness training, cooking and nutritional education, self-care consults and quarterly day-long workshops which share different effective-movement strategies."
Medical research shows the importance of physical activity in cancer prevention and survival. Findings demonstrate that those with high physical activity have a 40-50 percent reduction in the risk of cancer. Dr. Bongaard collaborated with the Pink Paddlers, Maui's only nonprofit paddling club, to help cancer survivors regain health and fitness through outrigger paddling. Mana'olana's paddling programs are open to persons with any type of cancer, both men and women. Mary Dungans, Mana'olana President noted, "Our program works magic for survivors wanting to regain mental and physical health after the grueling effects of cancer treatment. Paddling together builds confidence as we become part of something bigger than ourselves. Working with MCR, our mission is to create a comprehensive cancer support program and outreach service to help Maui cancer patients achieve the best possible results."
MCR and Mana'olana Pink Paddlers are collaborating to help Maui cancer survivors achieve lifestyle changes that make a difference as well as lifelong friendships.
Dr. Bridget Bongaard, Maui Cancer Resources, Medical Director