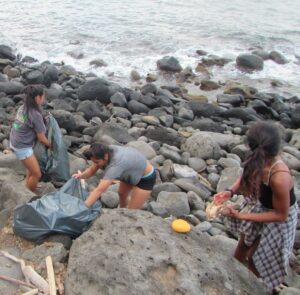 Molokai High School's (MHS) Mākaʻikaʻi iā grant from Maui Economic Development Board's (MEDB) Ke Alahele Education Fund provided support for the school's O Hina I Ka Malama Hawaiian Immersion Program. "The main outcome of the grant produced a series of virtual field trips of environments on Molokai showcasing important natural and cultural resources," said Gandharva Mahina Hou Ross, Molokai High School Hawaiian Language Immersion teacher and boys' cross-country coach. "This curriculum model is place and culture- based and uses technology as a way of tying in the state performance standards and making education relevant. The grant gave the students the opportunity to create a website that documents the different environments on Molokai."
Ross explained, "We took monthly field trips to various marine environments to conduct culture-based inquiry of important marine resources. Students traveled to the northwest, south and east coasts of Molokai to do shoreline monitoring. They collected samples of marine algae, marine invertebrates and marine vertebrates for further investigation in the classroom.  Samples were identified with Latin, Hawaiian and common names, along with their habitat, diet, life cycle, traditional Hawaiian uses and management practices. After taking film footage on our field trip, the students used green-screen editing technique to describe what they saw."
Funds were also used to create an internet domain for O Hina I Ka Malama's bilingual website as a database to archive our program activities. The marine field guide will be archived on the school website that the students designed. Through the virtual field trips, the grant also enabled the students to create multimedia presentations on Molokai, at the annual MEDB Women in Technology (WIT) STEM (science, technology, engineering, mathematics) Conference, and at Hawaiian Language Immersion schools throughout Hawaii.
"I want to thank MEDB and WIT STEMworks™ for the Ke Alahele grant," said Kauiwai Poepoe-Mollena, MHS 12th grader. "They provided us with the newest technology resources to complete our field trip tasks such as meter-square plots, ARC GIS mapping, cameras and GPS to mark points at the designated areas."
On Saturday, August 25, 2018, MEDB will hold their annual Ke Alahele Education Fund Benefit Dinner & Auction at the Grand Wailea Resort. For more information call (808) 875-2300 or email cari@medb.org. Please join us!
Leslie Wilkins, MEDB President and CEO