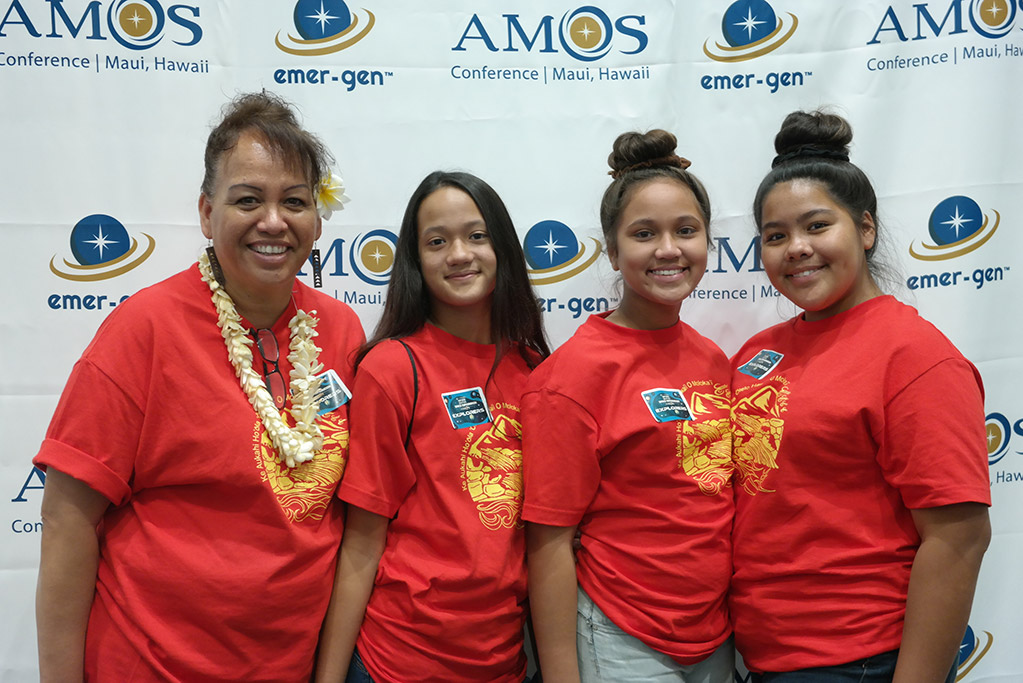 Molokai STEMworks™ teacher, Kumu 'Iolani Kuoha, and her students, 'Ohi'aku Ritte-Camara-Tangonan, 8th grade, Ka'ulalani Puaa, 7th grade, and Ciera-lee Ka'apuwaihiwalani Davis, 7th grade, from 'O Hina I ka Malama Hawaiian Language Immersion Program at Molokai Middle School, were among 150 middle and high school students and STEM (science, technology, engineering, mathematics) educators welcomed at the 2019 Advanced Maui Optical and Space Surveillance Technologies Conference (AMOS). The conference and the Space Exploration Student Session, presented by Maui Economic Development Board (MEDB), thrilled the Molokai girls who got to meet astronaut Dr. Edward Lu and visit the numerous exhibit booths for hands-on STEM activities.
"I can feel the energy in my students, they are so excited to be here!" said Kuoha. "They are learning so much from the exhibits that they will share with their classmates on Molokai. This is great exposure, especially for the girls who never heard about all the exhibitors here at AMOS. The students have a science fair coming soon, so the hands-on STEM activities are giving them many ideas."
"I love science and space!" exclaimed Tangonan. "This event has taught me many things about the universe. It was exciting to meet astronaut Dr. Ed Lu and learn about the education needed to become an astronaut and what he did on the International Space Station. Education is the most powerful weapon we can use to change the world for good."
Puaa noted, "At the Analytical Graphics Inc exhibit the engineers showed us how space debris can cause damage to satellites that cost millions of dollars, as well as interfere with things we use every day like the internet, banking, cell phones, and more. It's fascinating!"
Davis added, "My favorite exhibit was the thermal infrared imaging exhibit at Lockheed Martin. We experimented with a camera to learn how heat transfer works. The visual impact was huge and fun. We saw how the change of energy is indicated by an increased temperature. It is a privilege to come to AMOS and see people from all nations working together to keep space clean and safe for all of us."
Today is a rare experience! I'm so honored to meet former astronaut Dr. Ed Lu and all the industry professionals who made me aware of a whole new world of space exploration that I want to learn about. Thank you MEDB!
Ka'ulalani Puaa, 7th grade, 'O Hina I ka Malama Hawaiian Language Immersion Program, Molokai Middle School