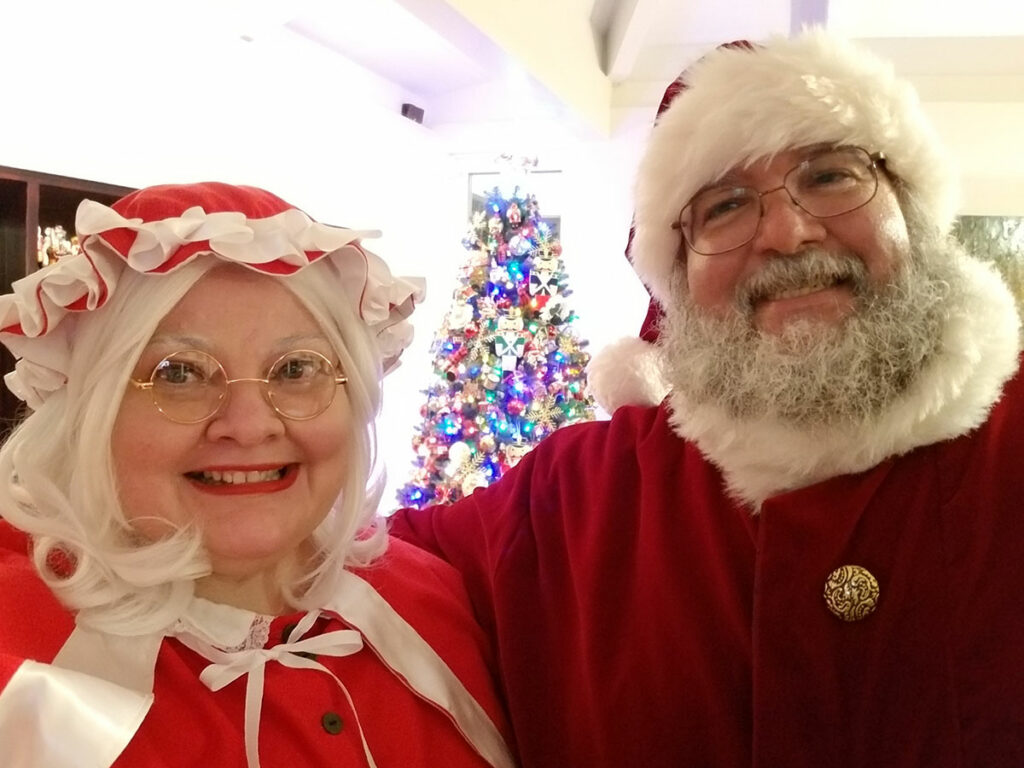 In December, Santa and his wife have a hectic schedule. Maui residents John and Lori Hughes, portraying Santa and Mrs. Claus, have been working for many years, directly under instructions from the North Pole. John Hughes, born and raised on Oahu, used to make appearances as Santa in the Kaneohe Christmas Parade. After moving to Maui in the late 90s, his Santa side awaited the right opportunity to continue volunteering. Lori Hughes, born and raised in Lahaina, always found ways to bring Christmas cheer by cookie baking, holiday decorating, even volunteering as a reindeer or elf for children's events. Lori has contributed to the community for decades, volunteering her time—assisting the Maui Food Bank with distribution drives at Maria Lanakila Church, organizing food drives at her place of employment, reading to children in the Read Aloud America school programs, and much more.
"A few years ago, we decided to combine our volunteer efforts as Santa and Mrs. Claus," said the Hughes, who now have authentic vintage Christmas outfits. "In collaboration with the Hansen family's Annual Toy Drive, we made our first appearance benefitting the Friends of Children's Justice Center. Additionally, we make appearances in the Kahului Library, the Kihei Library, the Maui Police Department's Annual Children's Holiday party, and other places in the community. In our Santa and Mrs. Claus personas we donate to the Maui Food Bank, lunch at Zippy's, fill gas at Costco, pick up Christmas cards at Target, candy canes at Walmart, and visit local coffee shops. It takes people by surprise to see us out in the general public, not hired by the store, and not asking for money. We are simply humbled to have a moment with community members."
Santa and Mrs. Claus concluded, "The magic we bring during Christmas ignites the spark to a child's and adult's imagination long after the holiday is over. It's these moments of family and togetherness, smiles and laughter, that always live deep in our hearts. Santa and Mrs. Claus remind us to be kind to one another—that's the most important thing. It's all about love! Merry Christmas!"
Be sure to visit with us at noon on December 8th at the Kihei Library; on December 9th, 10am-2pm at Maui Makers to make toys and arts and crafts; and on December 23rd at 10am-1pm at the Westin Nanea to meet and take photos. Email mauisantaclaus@yahoo.com for more information.
Santa and Mrs. Claus