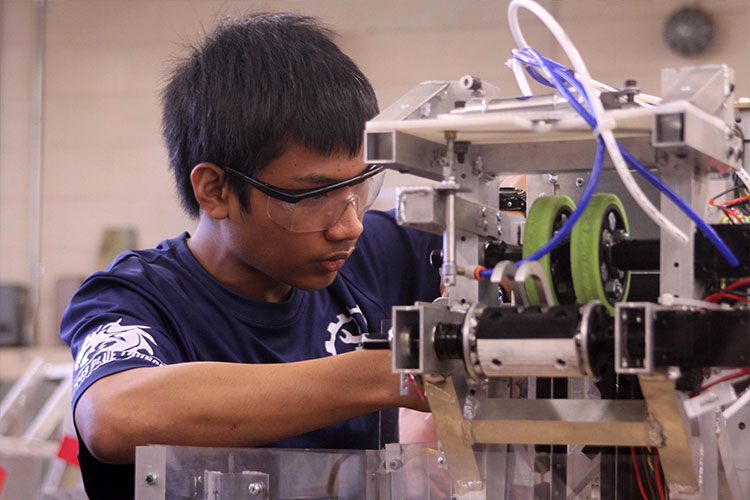 On Saturday, August 26, 2017, Maui Economic Development Board (MEDB) will hold their annual fundraiser dinner and auction Pathways to Our Future at the Fairmont Kea Lani Hotel in Wailea. Guests will celebrate MEDB's 35th Anniversary and the achievements of students in their STEM (science, technology, engineering, and math) programs. MEDB's mission is to inspire and engage students in exciting mentor-based programs that build STEM skills and foster self-confidence, communication, and leadership.
Ke Alahele Education Fund grantee, Maui High School (MHS) Robotics Program, has many accomplishments to be proud of. Their determination and commitment has successfully brought them to the 2016-2017 seasons, their 10th year. "Every year, at their school, the MHS team hosts the Maui VEX Robotics Tournament," said Dian Taroma, MHS Robotics team captain. "The students are continuously challenged to design, build, and program new robots."
Taroma continued, "MEDB's grants for our school's robotics program exposed me to the STEM field and its range of career options. As a result, the whole team gained skills that are fundamental to our future." Taroma's brother, Denmark, has been in robotics all four years of high school. "I started off as a builder and improved along the way becoming one of the build captains on the team," he explained. "Being in robotics, designing and putting the robot together, has taught me the values of being a leader."
Team member Maureen Ang noted, "Without the support from MEDB, the team would not have been able to reach our full potential. We were able to build and program the best robot we could, travel, and ship our robot to our competitions."
Mary Chin added her experience, "VEX is always a challenge, no matter your skill level. Everyone is constantly altering designs and rebuilding up until the last minute. Despite the seemingly endless frustrations we face, the overall problem-solving skills and abilities to function well in a group setting are priceless. MEDB's grant has greatly helped us in more ways than one."
The MHS robotics program, even after the first season, leaves students with a vision and a sense that they can create their own future.
Denmark Taroma, MHS 2017 graduate