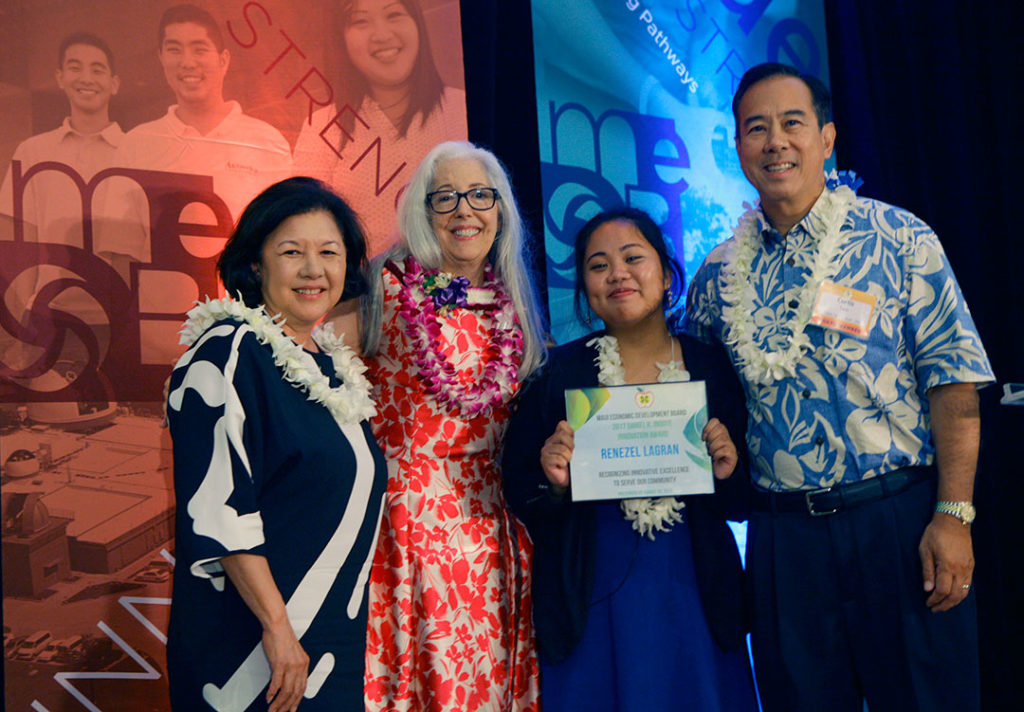 Maui Economic Development Board's (MEDB) Ke Alahele Education Fund Benefit Dinner & Auction, held at the Fairmont Kea Lani Wailea, showcased an evening of nostalgia—a chance to look back at MEDB and their organization's impact over the last 35 years, along with a glimpse of what's to come. Guests enjoyed an evening of food, fun, and camaraderie, while celebrating the STEM (science, technology, engineering, mathematics) achievements of Maui County students. The festive event of 500 supporters included Distinguished Educators– Lieutenant Governor Shan Tsutsui and his wife Lyndelle, and Mayor Alan Arakawa and raised $325,000 to benefit MEDB and its programs.
"These funds will provide state-of-the-art technology tools for our students and training for our teachers; investments that will make a difference in the lives of our residents and our community," said Leslie Wilkins, MEDB President and CEO. "This year, MEDB has expanded our pipeline of support by adding the Jeanne Unemori Skog Leaders and Entrepreneurs Fund to build the next generation of visionaries." Skog, retired MEDB President and CEO, said, "I am so grateful to the MEDB Board of Directors for creating this fund in my name. I am also honored to receive the MEDB Colin C. Cameron Award, which recognizes outstanding contributions to strengthen and diversify Maui County's economy."
The evening culminated with the presentation of the prestigious Daniel K. Inouye (DKI) award, which went to Renezel Lagran, a 2017 Maui High School graduate currently attending the University of Hawaii-Maui College. Lagran received $5000 in recognition of her innovative use of technology used to serve our community. This year, Maui Waena Intermediate School's STEMworks™ science teacher Jennifer Suzuki and Maui High School's Arts and Communications teacher Clint Gima and the ACOM program will receive $5,000.
"I'm so grateful for this honor," said Lagran. "I've worked incredibly hard since middle school and have had amazing teachers, mentors, and supporters along with amazing STEM opportunities. I'd really like to thank MEDB and their STEMworks™ program for their support. Their investment in me will truly reap positive results for Maui and our community."
My hope is that the Jeanne Unemori Skog Leaders and Entrepreneurs Fund will help build the next generation of visionaries.
Jeanne Unemori Skog, Retired MEDB President and CEO