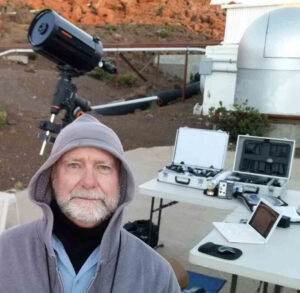 Maui resident Steve McCaughey recently joined a growing number of private-citizen space enthusiasts from all walks of life who serve as NASA Solar System Ambassadors (SSA). The nation-wide SSA program brings the excitement of NASA's space exploration to children, teachers, and adults in the community. As an Ambassador, McCaughey will deliver information about NASA's vast endeavor of missions and scientific study, through school programs, planetarium talks, telescope-viewing parties, mall displays and much more.
McCaughey describes himself as a "lover of the night sky." He first came to Hawaii in 1973 on a 40-foot schooner, with no GPS satellites to help navigate. "We conducted daytime sun sightings at noon and 2pm with a sextant, and computed our position with logarithmic tables," he explained. "At night I had the 4am watch and I steered the boat by the stars. I fell in love with the constellations and notable objects in the sky that can be observed with binoculars, and I began studying double stars."
Soon after, McCaughey joined the Hawaii Amateur Astronomers (HAA). He purchased a Celestron 9.25-inch Schmidt-Cassegrain telescope with an equatorial mount on a pier, and a 104mm refractor that he uses for educational outreach. He began attending the University of Hawaii Institute for Astronomy (UH IfA) AstroTalks in Pukalani, and a few years ago helped form the Maui Double Star Association, a group of students and adults who do observations of double stars. Some of the student participants ended up being co-authors on a paper in the Journal of Double Star Observations, and one is majoring in physics because of this experience.
With the inspiration of Dr. J. D. Armstrong, UH IfA Educational Outreach Specialist, McCaughey's HAA group has conducted astronomy outreach on Maui for the past ten years. They travel to STEM (science, technology, engineering, mathematics) conferences, conventions, schools and other events with their telescopes. "McCaughey's dedication to community engagement with space science is outstanding," said Dr. Armstrong. "Regarding his recent NASA Ambassadorship appointment, we look forward to sharing more with him." For educational outreach information, call (808) 281-2468.
I look forward to bringing the world of NASA and astronomy to those who are interested in 'looking up'. The youth of today are the ones who will take us on and beyond!
Steve McCaughey, NASA Solar System Ambassador