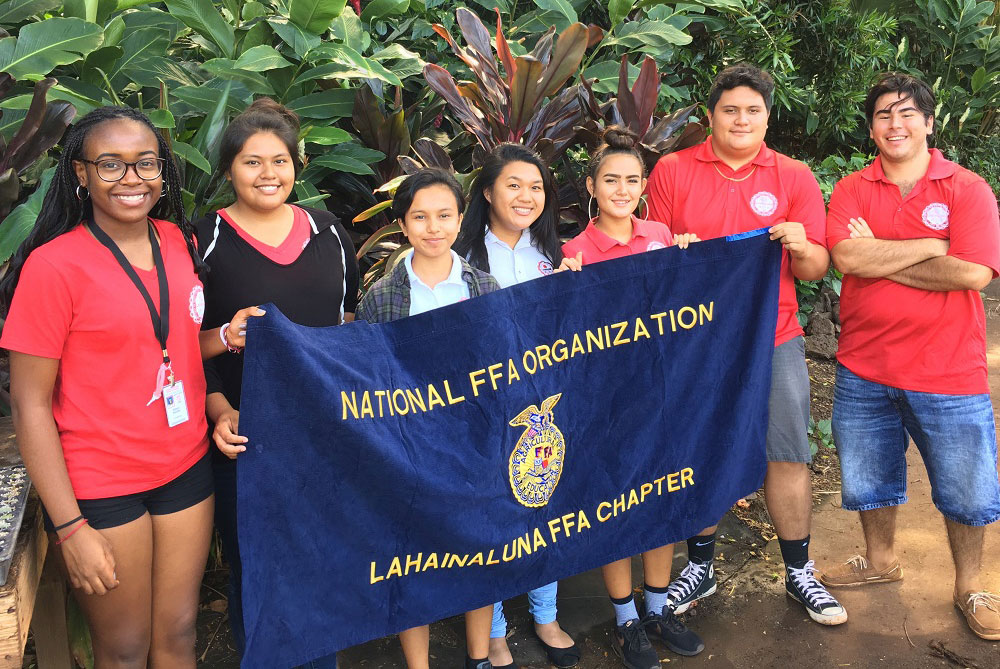 M'Chelle Aguinaldo, a senior at Lahainaluna High School, was elected and is serving as Secretary of the Hawai'i Chapter of Future Farmers of America (FFA) for 2017-2018. A student-led national organization, FFA is committed to fostering projects that increase awareness of the global importance of agriculture. FFA's initiative complements Maui Economic Development Board's (MEDB) vision of achieving a diversified Maui County economy, including agri-tech. Both MEDB and FFA encourage wise management of economic, environmental and human resources in the community, and promote teamwork, citizenship, and volunteerism. They teach that agriculture is more than planting and harvesting—it's a science, it's a business, and it's an art.
"The Lahainaluna High School Agriculture Program's mission is to help our community grow the next generation of young farmers," Aguinaldo said. "As this year's FFA State Secretary, I travel to state and national FFA meetings and assist in work-related activities at Lahainaluna. I also support Maui's school garden programs with plant donations and other volunteer work."
Aguinaldo continued, "At Lahainaluna we see a thriving and sustainable Hawaii. We maintain a pono lifestyle by having aloha for all, and by respecting the culture. We need the next generations of farmers. We also need to help drive Hawaii in the direction of becoming sustainable and help keep produce here. We're working for a better future for Hawaii's youth and economy."
Lahainaluna Ag offers a variety of classes. Their facility consists of two classrooms, a shop, a greenhouse, multiple small and large fields, a plant nursery, and a Hawaiian garden. "The curriculum places a high emphasis on giving students as many visual and hands-on learning experiences as possible," said Aguinaldo "We sell our produce to the community and at local farmers markets, to our school staff, to other Lahaina schools, and to local businesses. We also give back to our community by providing donations of produce and plants to school gardens, homeless shelters, senior housing complexes, and the Maui Food Bank."
FFA students develop an appreciation for a farming career and other agriculture-related professions such as biologists, chemists, veterinarians, engineers and entrepreneurs.
M'Chelle Aguinaldo, Lahainaluna High School, 12th grade