Maui Waena Intermediate School, a Maui Economic Development Board (MEDB) STEMworks™ (science, technology, engineering and mathematics) Program participant, won big in the largest student video competition in the nation. Thirty two Maui Waena students attended the 2023 Student Television Network (STN) convention in Long Beach, California over spring break. They competed against students from digital media programs around the nation, taking home 12 awards after participating in 11 on-site competitions and one pre-contest. Their weekly show, Falcon Features, was awarded an outstanding rank, coming in second among all entries.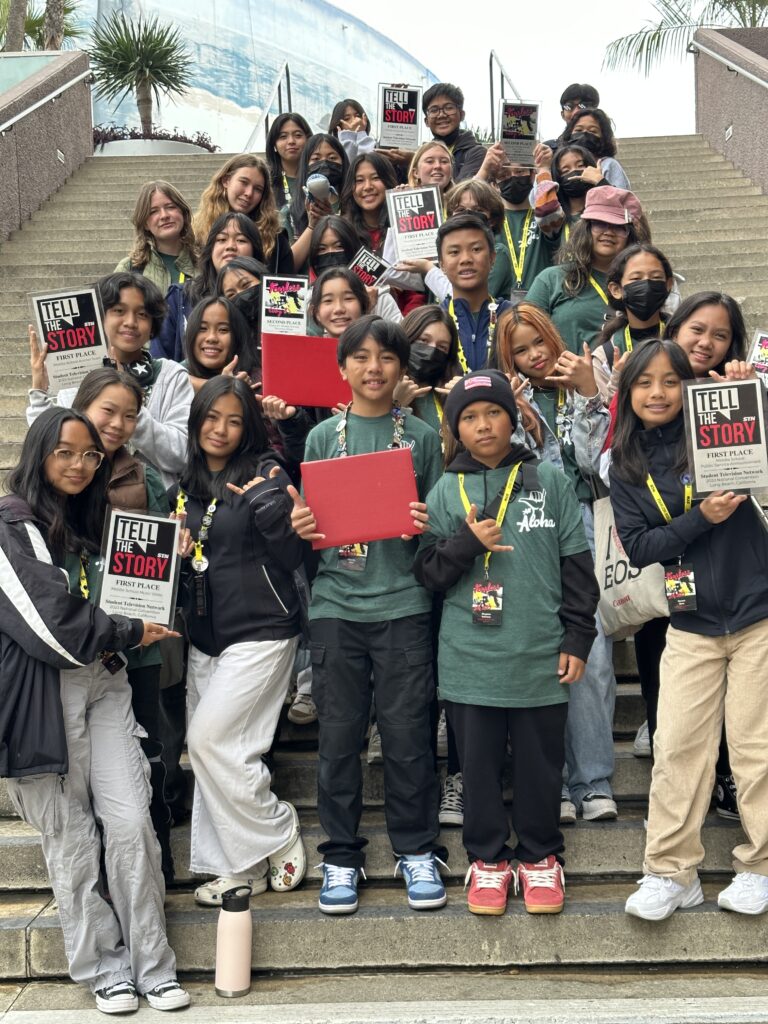 "Maui Waena students always work very hard to prepare for STN, and always do well," said Leslie Wilkins, MEDB President and CEO. "They, along with their STEMworks teacher Jennifer Suzuki, deserve acknowledgement for their efforts and quality productions. Congratulations!"
STN was started in 1999 by a group of teachers who wanted to support and encourage scholastic broadcasting and to provide a forum for students to share ideas, ask questions, and learn from professionals in the industry. Over the past 20 years, STN has expanded to include film, multimedia and other forms of communication taught in grades 6-12 in middle and high schools across the nation.
Suzuki recalled, "For the past 12 years, MEDB has supported our after-school program and has helped to provide countless experiences and opportunities for our students. "This year's STN convention was just the most recent. It also happened to be our most winning year yet! It was almost embarrassing when they kept calling our name, but the students put in hundreds of hours of practice and on Sunday, March 19, it all paid off. I think the most important thing that they learned was that if you put in the time and effort, it doesn't matter if someone has better gear, telling the story is all that matters."
Maui Waena student and news anchor Capriana Nozaki added, "The STN trip taught me how to be a good leader, how to communicate effectively, and how to stay organized. But above all, I got to connect and bond with people who work hard and share the same interest. I will never forget this experience!"
STN was a wonderful opportunity for the students. They had extra excursions and got to network with over 2,500 students. I'm so proud of them! Jennifer Suzuki, Maui Waena, Media Teacher, Coordinator STEMworks AFTERschool Program