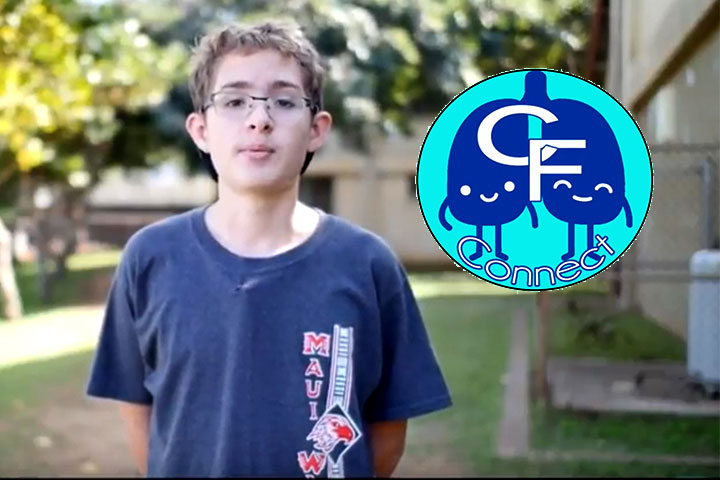 Text the Word CFCONNECT to 22333
Maui Waena Intermediate School, a participant in the Maui Economic Development Board (MEDB) Women in Technology (WIT) STEMworks™ AFTERschool program, recently won Best in State in the Verizon Innovative Learning App Challenge. This competition was created by Verizon to encourage students from across the country to create an idea for a problem-solving app. "Our STEMworks™ team created an app, CFConnect, that would allow people with cystic fibrosis (CF) to communicate directly with their doctors, other patients, and to keep track of their daily pulmonary health," said Jennifer Suzuki, Maui Waena STEMworks™ teacher. "The students came up with CFConnect to assist their teammate, Ethan, who has CF. The app could also help thousands of people worldwide get information, feel connected and monitor their own health."
The Maui Waena app was voted best among all the middle school entries in Hawaii. They won a $5,000 award from the Verizon Foundation for their school, besides tablets for each student team member. They are currently in the running for the Fan Favorite App Challenge Award, and need you to text your vote! The Fan Favorite Award was created to give the community an opportunity to show their support for student innovation in developing app concepts that address societal issues.
"This means we could win an additional $ 15,000 dollars for the school," Suzuki explained. "Additionally, the students will receive the chance to build their concepts into working apps with MIT Media Laboratory experts and an all-expenses-paid trip to the Transportation Safety Administration (TSA) Conference in Orlando, Florida in June 2017.
"To win, our team needs help from everyone in the community," said Suzuki. "Our concept needs to get the most votes. You can help us win by texting to number 22333 and entering the word: CFCONNECT by February 14, 2017. Please ask everyone you know that can help our team win. It is our chance to really support our students!"
Voting is quick and easy! Please text the school's code CFCONNECT to 22333.
Ethan, Waena Intermediate School student and CFConnect App team member