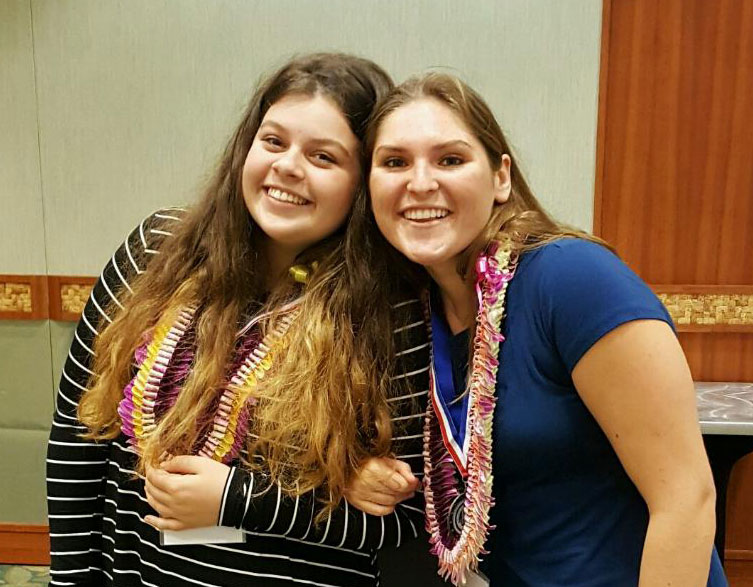 Maui students and best friends, Erica Sawczynec, Kihei Charter School 12th grade, and Celeste Jongeneelen, home-school 11th grade, have received high honors and recognition in astronomy and physics. The girls attended the 2017 Pacific Symposium for Science and Sustainability (PS3) where Jongeneelen was awarded first place and Sawczynec received fourth place. That placement sent them both to the National Junior Science and Humanities Symposia in San Diego where they both placed third in their respective categories in physics. Jongeneelen earned a $4,000 scholarship and both girls were selected as two of eight people who met with Dr. William Daniel Phillips, co-winner of the 1997 Nobel Prize in Physics.
In May, Sawczynec was awarded second place at the Intel International Science and Engineering Fair (ISEF) held in Los Angeles. In addition, she received $500 and an all-expenses-paid trip to the ISEF conference in Washington, DC next January, where she will present her work again. Sawczynec was a summer intern in 2016 with Maui Economic Development Board's (MEDB) Women in Technology (WIT) Project. Her research as an intern won awards at the three competitions.
"Thanks to MEDB, I learned about the various opportunities we have here in Hawaii for STEM students, something that WIT gives much attention to," said Sawczynec. "My astronomy project, determining the age and distance of star clusters, is important because it helps us to better understand what is happening in the universe around us. Stars of a certain age have certain characteristics that teach us more about stellar evolution as a whole. This can also aid with identifying stars which could possibly have exoplanets around them, based on how similar they are to our own sun. I would like to major in physics in college because there are still so many astronomical discoveries to be made."
Thanks to MEDB and WIT for the Summer Internship Program and thanks to my mentor, Dr. JD Armstrong from UH's Institute for Astronomy, for inspiring me to discover something new about the Universe.
Erica Sawczynec, Kihei Charter School 12th grade