Every year the Rotary Clubs in Hawaii have held 'Rotarians-at-Work Day' to coincide with the week of Earth Day. This year, Maui Rotarians, alongside community partners and volunteers, joined to pick up plastics and trash throughout the island. "Our goal was to pick up trash on the beaches, the shorelines, in parks and on trails," said Dennis Bagshaw, President of Rotary Club Kihei Wailea. "We hope to continue to protect Maui's natural beauty, marine life, and the health of residents and visitors from the damages of plastic pollution. Plastics threaten Hawaii's water quality, vulnerable marine ecosystems and public spaces around the island."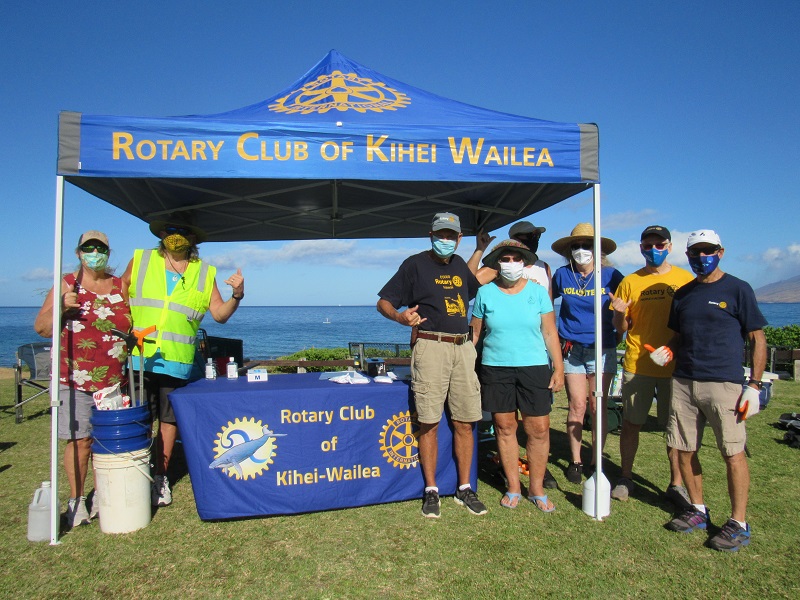 Eight Maui Rotary clubs engaged in the clean-up as part of the statewide Ridge-to Reef Clean-Up Day event. The plan was for Rotarians to partner and clean microplastics (pieces smaller than 5mm in size) from different areas around the island. For example, the Wailuku Rotary Club did a clean-up of the area adjacent to the Nisei Veterans Center, and the other clubs did their clean-ups.
Mariko Higashi, Assistant Governor Maui Coastal Rotary Clubs, explained, "Much of the litter we find on the beaches, trails and public spaces are plastic. Plastic of any size, particularly microplastic, is a health concern to both humans and animals alike. By not only collecting but also classifying the collected litter, we can better understand the source of the pollution, where the pollution is concentrated on our islands, and how we can best tackle this problem. The data will help advocate for policy and regulatory changes as has been done in the past such as with the banning of single use plastic bags at stores on Maui in 2011, and of smoking at beaches in Hawaii in 2015."
Higashi added, "While clean-ups can help, it is also clear that we cannot recycle or clean-up our way out of the plastic pollution crisis. It will take sustained changes in our behavior, the products we purchase and the food we eat, to begin to correct this problem. The good news is we still have a chance to fix these problems, as we continue to explore ways to reduce or replace the plastic from our everyday lives."
The Rotary motto, 'Service Above Self' keeps Maui club members involved in numerous projects throughout the year. Protecting the environment and growing the local economy are one of many areas of Rotary's focus.
Dennis Bagshaw, President of Rotary Club Kihei Wailea