It's never too late to make music! Just ask Maui violist, violinist and music educator Teresa Skinner who began playing professionally and teaching in her native Southern California. On Maui since 1986, Skinner has become a celebrated local violinist. In 2015, she was honored with the Maui County Committee Women of Excellence Award for her contribution to music education in the community.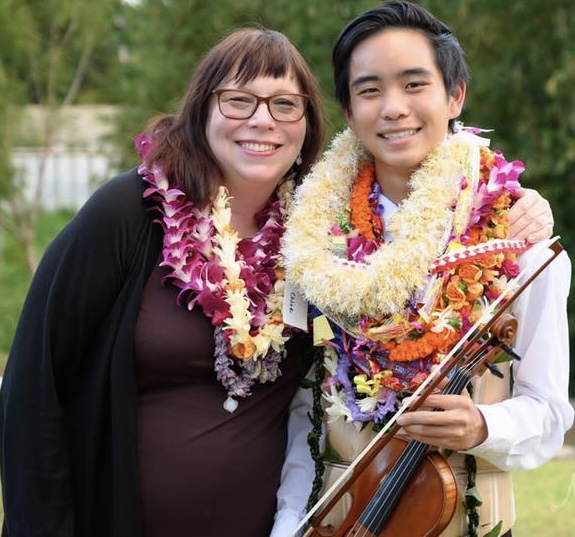 Currently, Skinner is principal violinist with both the Maui Pops Orchestra and the Maui Chamber Orchestra, and is part of a string quartet. Leading the string program at Haleakala Waldorf School, Skinner also teaches violin and viola at her private studio as well as at the Maui Music Conservatory in Queen Ka'ahumanu Center. Haleakala Waldorf School educators, Keith and Lynette McCrary said, "Skinner teaches with warmth, enthusiasm and artistry. She listens to her students, incorporating their ideas where appropriate, bringing laughter and musical discipline to their endeavors."
Skinner started the Suzuki-Maui School of Talent Education and Ability Development and mentors students of varying ages. "The Suzuki Method, named after its founder, the late Japanese violinist Shinichi Suzuki, applies the basic principles of language acquisition to the learning of music," Skinner explained. "A music curriculum and teaching philosophy, the method aims to create an environment for learning music which parallels the linguistic environment of acquiring a native language. Incorporated in the Method is the Suzuki Triangle, in which the parent helps the child practice and gives encouragement. The central belief of his language acquisition theories is that all people can and will learn from their environment. Some components to the Suzuki method include saturation in the musical community, developing friendships with other music students, and listening to recordings of professional musicians in the home every day."
Skinner has seen the immeasurable benefits of music education firsthand and is quick to point out that there is more to it than scales and chords. "Music education is part of a well-rounded education," she emphasized. "It fosters the development of self-motivation, as well as verbal and musical intelligence. It provides the life skills students need to make decisions, juggle multiple tasks, and foster excellent character."
Maui Pops Orchestra is in rehearsal for the Winter Pops performance on February 20th and Spring Pops on March 13th. It is wonderful to be playing again for our Maui community!
Teresa Skinner, Principal Violinist Maui Pops Orchestra and Maui Chamber Orchestra