Loren Lapow, founder and director of the Maui Hero Project (MHP), Inc., believes that everyone has a hero or heroine within. With a master's degree in social work, Lapow founded MHP in 2000 and has been coaching adults, youth, families, and communities ever since. Using evidenced-based techniques and his exceptional capacity to guide people through life crises, he has helped thousands to transform their lives.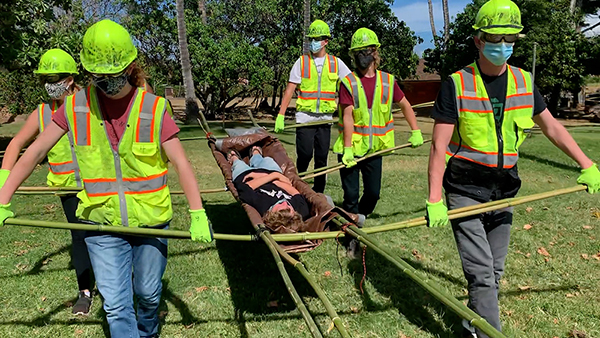 "We are all on a journey in life," Lapow noted. "We can all learn how to take control and create positivity in our lives as well as to serve others. In fact, the main skill participants come away with is to be the person who steps up when something happens, to be more confident in taking the leadership role while others might not."
Lapow integrated the Teen CERT (Community Emergency Response Team) Program with the Hero Project to create a Hawaiian-style disaster preparedness course. Meeting at the Paia Youth & Cultural Center, students in the program undertake 100 hours of training that follows the national CERT curriculum. "The students amaze me by how much they care about each other and the community they are part of," Lapow said. "I think they find strength in the way they act as a team."
The Teen CERT program fuses disaster-preparedness training with Maui cultural stories, then adds in the adventure, search and rescue components. By re-tracing the Maui myths, youth are experientially taught core skills, as well as appreciation for Hawaiian culture. Some graduates of the program bring their training when they join the new HEROEZ Junior Red Cross Club also housed at the youth center.
Program graduate Elizabeth Clark said, "I still reflect on and learn from my experiences with MHP. Lapow inspired me to go into human services to work with youth in the future." Maui author Toby Neal added, "Lapow is a motivating communicator who forges new and unique connections among diverse groups of people in a way I have seldom seen done in social work. He teaches his students to have confidence in themselves and how to provide help in the community."
Our mission throughout the global pandemic is to help youth find connection despite distance, through acts of service to their community and everyday heroism.
Loren Lapow, Maui Hero Project, founder and director