Maui Nui Marine Resource Council (MNMRC), a nonprofit organization founded in 2007, is recognized for working with the local community to create culturally appropriate and effective science-based solutions to serious threats facing Maui County's reefs and environment. With unemployment at record levels because of Covid-19, MNMRC was recently a fiscal sponsor of a County of Maui Office of Economic Development (OED) Maui CARES (Coronavirus Aid, Relief and Economic Security) program.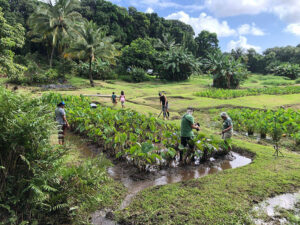 "Our vision is healthy coral reefs, clean ocean water, and abundant native fish," said Mike Fogarty, MNMRC Executive Director and a principal organizer of the program. "Our team is grateful for this wonderful opportunity to help coral reefs and the surrounding environment and to provide paychecks to unemployed workers on Maui and Molokai during this challenging time of Covid-19. We thank Mayor Victorino and the OED for taking the bold step to establish the Maui CARES program with funding through the Federal CARES Act."
MNMRC managed the rapid employment of more than 70 Maui and Molokai residents to work for seven local conservation nonprofits. The unique collaborative employment and workforce training program had a great impact on the local environment. The projects and accomplishments incorporated traditional Hawaiian cultural practices and modern technology to prevent sediment pollution in the ocean and protect valuable cultural resources.
"Many problems facing the local reefs originate on land, which is why the MNMRC projects and programs are community-based and work from mountain to sea, mauka to makai," Lindsey said. "All projects were rooted in Hawaiian traditions and values that serve as the foundation of the community. They are all of great importance; a celebration of all that was accomplished and learned by those who came before us. The employees put their heart and soul into these challenging and impactful tasks."
The participating nonprofits included: Ka Honua Momona on Molokai; Kipahulu 'Ohana in East Maui; Hawaiian Islands Land Trust in Waihe'e; Ke Ao Hali'i in Hana; Kipuka Olowalu in West Maui; Na Moku Aupuni O Ko'olau Hui in East Maui; and Na Mamo O Mu'olea in East Maui.
The MNMRC workers ensured that legendary places would endure for generations to come.
Mike Fogarty, Executive Director, Maui Nui Marine Resource Council