Maui Coffee Roasters (MCR), a staple business on Maui since 1982, joined Maui Business Connect, one of Maui Economic Development Board's (MEDB) newest programs for small businesses. The program focuses on growing local businesses in Maui County through training, mentoring, and networking, as well as connecting innovative businesses in the agriculture, creative, and health care industries. It is designed to help diversify the local economy and create jobs throughout the region.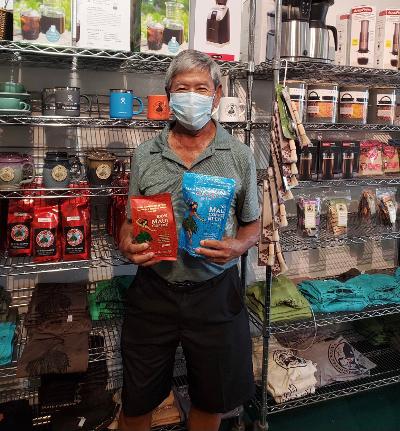 Leslie Wilkins, President and CEO, MEDB, noted, "We hope to expand our business-development mentoring and counseling to target businesses that are past the 'startup' phase and are poised to scale, but need additional technical assistance and coaching to achieve the next level. These businesses are the job creators who will fuel our economy and MEDB's goal is to offer programs to increase their probability of success."
Throughout the years, MCR has provided the local community with a comfortable place to relax and enjoy a cup of coffee. Conveniently located in Kahului, they provide a prime spot for travelers and local residents alike. Well known for 100% Hawaiian Coffee, MCR was voted the Best Local Coffee Shop in 2018. It is also a longtime supporter of Maui's non-profits and winner of the Community Business Award from the Maui Non-Profit Directors Association. The team roasts coffee from across the Hawaiian Islands, as well as a wide selection of international coffee. All of their coffee is freshly roasted in small daily batches using their eco-friendly Loring™ roasters, ensuring the best taste possible. They display colorful art, offer baked goods, and a selection of brewing accessories. However, along with other small businesses, MCR was hit hard by the Covid-19 pandemic. "At MCR we have followed all safety precautions to keep our employees and customers safe," said MCR General Manager Mike Okazaki. "We entered MEDB's Maui Business Connect to support and network with other business owners. For 40 years, MEDB has been a dynamic force in promoting innovation and entrepreneurship. The Maui Business Connect program assembled a cross-section of established businesses as a think tank of ideas to redefine vibrancy."
MEDB's Maui Business Connect program offers technical assistance and coaching to businesses, and helps diversify the local economy to create jobs throughout the state.
Mike Okazaki, Maui Coffee Roasters General Manager