In 2008, Mark and Leah Damon, owners of Maui Bees Incorporated in Kula, combined their shared passion for bees and wholesome organically grown food to create a joint farming venture, including a farm stand to offer their grown-on-Maui products. The Damons' commitment to their honey is second to none. They have always insisted on keeping it pure and unfiltered by using a 100 percent cold process to ensure the honey stays below room temperature. Their seasonal honey is produced by worker bees that head out daily onto the slopes of Haleakala to forage for nectar and pollen.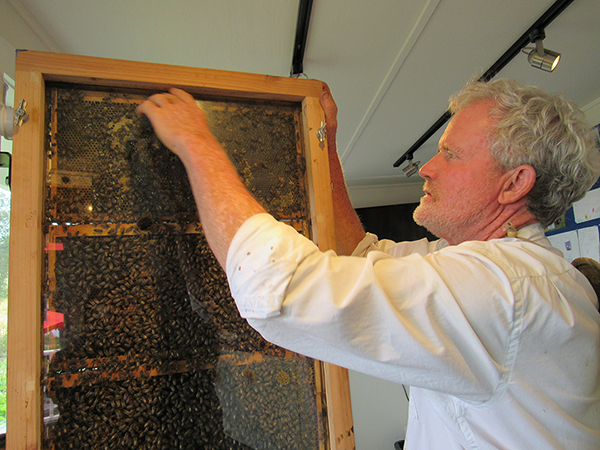 "Twice a year we harvest our honey to produce two distinctive honey varieties," Mark noted. "In the summer months, May-October, we gather nectar and pollen from abundant forests of Wilelaiki that grow on the leeward side of Haleakala. This timeline produces a mild amber honey. In the wintertime, December-April, the bees frequent tall stands of Eucalyptus that yield a deeper darker honey with mellow caramel undertones."
Hidden deep inside every beehive, the sole queen bee lays about 2,000 eggs per day. Sometimes there are as many as 60,000 worker bees in a single hive. The queen can live from two to five years and in that time produce over a million workers. Nevertheless, prolific as they are, bees face a range of complex and interacting hazards.
Mark explained, "Today, beekeeping is confronted with the disappearance of bees due to a variety of threats including habitat loss, fragmentation and degradation; and the widespread use of pesticides in subsidized intensive farming. Beekeepers have become bee farmers. Without their work, the bee, despite its prodigious life force, may disappear from our communities through its sensitivity to toxins. The bee is a true natural indicator of the environment's health."
Recently, the Damons' added a Bee Museum, an educational component of their farm. Visitors can watch bees safely behind the glass walls of two observation hives and learn all about the inner workings of a living bee-hive. The farm offers structured educational programs and regenerative agriculture tours for guests who want a more in-depth educational experience.
Our observation hives teach about pollination, bee jobs, and what is in the hive. Our compost and garden studies explain regenerative farming practices and how soil fertility produces our beautiful food.
Mark and Leah Damon, Maui Bees, Inc.