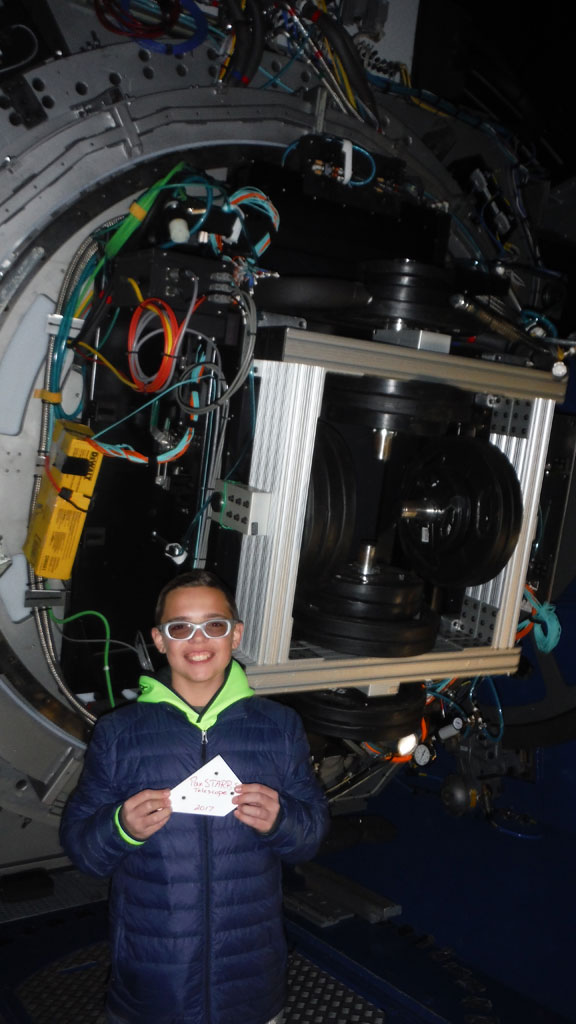 Facing serious health challenges, Daniel, a ten-year old boy diagnosed with Hodgkin's Lymphoma, reached out to Make-A-Wish® Hawaii to help make one of his wishes come true. Daniel's love of astronomy brought him and his family to Maui for a tour atop Haleakala. Daniel had an extraordinary experience with the collaboration of the nonprofit Make-A-Wish® Foundation, Dr. J.D. Armstrong, Educational Outreach Specialist at the University of Hawaii's Institute for Astronomy, and many volunteers.
"Daniel was so impressed by the observatories that simultaneously perform such diverse missions as exploring the heavens, monitoring natural and manmade space activities, and tracking the growing amount of space debris," said Dr. Armstrong. "He was also astonished that many Maui students his age have access to the Faulkes Telescope North via their computers."
"It was amazing and very cold up there!" exclaimed Daniel. "I learned that scientists are still discovering new planets and near-Earth asteroids, and I saw the incredible new Daniel K. Inouye Solar Telescope that's being built. Dr. Armstrong explained how astronomers determine the age of stars by observing their spectrum, luminosity, and motion through space. Knowing the star's age is important for many astronomical studies, especially for planet hunters."
Every year, about 100 keiki in our islands are diagnosed with a life-threatening medical condition. "It is our vision to grant the wish of every eligible child," said Abe McAulton, Wish-Assist Coordinator with Make-A Wish® Hawaii. "There is power in a wish come true and medical professionals are prescribing it as good medicine. These moments allow the children to feel normal again, without doctors, hospitals, blood tests, or any treatment. Every smile and every shared moment, brought about by caring people, is something truly magical."
Wish-granting takes place on every island throughout the State of Hawaii. "More than 13,000 wishes have been granted in Hawaii with the help of over 700 volunteers," said McAulton. "When wishes happen they make such a lasting difference in the lives of the children and the communities we serve."
Make-A-Wish® Hawaii grants the wishes of children with life-threatening medical conditions to enrich the human experience with hope, strength and joy.
Abe McAulton, Make-A-Wish® Hawaii Wish-Assist Coordinator