The New Year celebration in Hawaii, also known as Makahiki season, covers the lunar months from October/November through February/March. The focus of the season, influenced by the Hawaiian moon calendar, was and is a celebration of the bounty of the land. In the Hawaiian language, Makahiki means 'year' as in the change from harvest time to the beginning of the agricultural season.
Multi-Grammy and Hoku Award-winning master slack key guitarist, native Hawaiian practitioner and entrepreneur Uncle George Kahumoku Jr. explained it well, "The 'āina (land) is considered a living entity. We are the earth and the earth is us. We must remember that what we do to the 'āina, we do to ourselves. It is our kuleana (responsibility) to mālama (care for) our keiki and all life in a healthy, nurturing environment. The festive Makahiki season always offers entertainment, lawn games, lei-making and a true expression of the never-ending circle of aloha with friends and 'ohana alike. This time of year has always focused on bringing the community together in the spirit of abundance, gratitude, peace and healing."
Kahumoku added, "Amazing communities of people are dedicated to cultural and sustainable agriculture on Maui, reaping fruits of labor and love before new seeds are sown. The Makahiki season is also a time to celebrate the earth's bounty and those who seek to improve the productivity of the land. Throughout the new harvest season, we are reminded of our spiritual connection to the earth and to each other. The premise is simple. The earth with everything on it is an integral part of the whole solar system. The better we understand this insight, the more we understand Makahiki."
Leslie Wilkins, Maui Economic Development Board (MEDB) President and CEO, said, "As 2021 comes to an end, MEDB applauds our Focus Maui Nui community filled with amazing people doing extraordinary things to enhance our island home. Looking back at the stories we shared in this column, and the thousands of other people and organizations working tirelessly to make Maui nō ka 'oi for residents and visitors alike, we say Mahalo."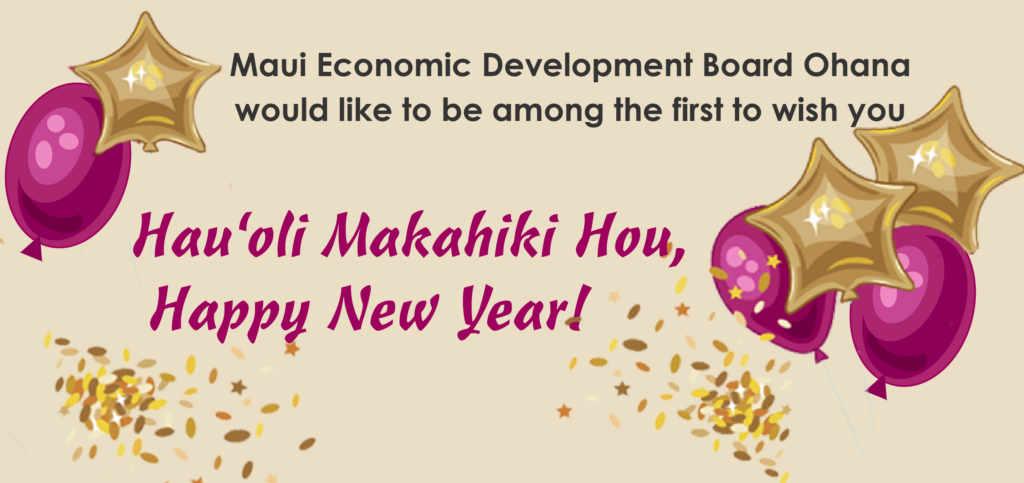 Happy New Year!
MEDB Staff